Brand A-Z
Soto (11 to 17 of 17)
---
--- Make backpacking meals a gourmet delight with the hard-anodized, multipurpose Soto Navigator cookset. It includes a few cooking essentials for turning your food into a wilderness treat.
---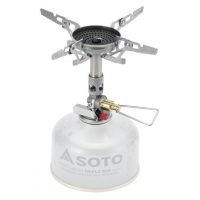 Soto Backpacking Canister Stoves OD-1RX Windmaster Stove With 4 Flex Pot Support OD1RXC. The OD-1RXh has a few upgrades over it's predecessor. First the OD-1RX stove has been designed to allow the pot to be positioned closer to the flame making it more...
--- The Soto Pocket Torch turns a disposable lighter into a powerful wind-resistant burner that reaches temperatures up to 2,300degF.
--- Turn a lighter into a powerful, wind-resistant burner with the Soto Pocket Torch. With the included refillable lighter, you're instantly ready to light a stove or start a cozy campfire.
--- The Soto Pocket Torch XT features an extendable burner head that makes lighting hard-to-reach objects, such as stove burners, lanterns and candles, simple.
--- Make your own double-wall cup that can be heated on a stove with the Soto Thermostack mug set. It includes 2 cups that can be nested for the insulating performance of a double-wall mug.
---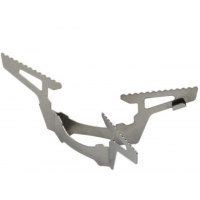 Soto Backpacking Stove Accessories Triflex Pot Support OD1RX3.
---
STRAIGHTFORWARD DESIGN - includes a mess-free brush tip making paint touch-ups and repairs hassle-free and easy to store for later use. FEWER COATS REQUIRED - paint + primer in one means fast repairs that cover scratches, scuffs, chips, nicks, wear on...
---
---
Skate-inspired sneaker featuring large "H" overlays at sides and herringbone-tread sole. Mesh lining. One-piece vamp. Logoed tongue and counter. Removable insole.
---
Women's ankle cowboy boots with a Round toe shape. 7" ankle height shaft and 2" heel height. Genuine leather throughout with a Rubber sole, Comfortable fabric lining and Cushioned insole. Detailed embroidery on the shaft and Western stitching on the foot....
---
Multicolor flowers blossom out of a turquoise-rimmed heart and Floral embroidery throughout. Snip toe boot with 12" shaft height and a 2" heel height. Comfortable leather lining, Cushioned insole and Leather soles. Handmade Cowgirl Boots with Genuine...
---