Brand A-Z
Sks (1 to 1 of 1)
---
---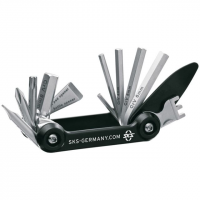 Sks Camp & Hike Tom 14 Mini-tool 10015.
---
SKS Cap 2541-09 (neck diameter 28mm, thread type 410) fits SKS bottles 00010160.03S, 00560320.04S, 00120320.02S, 00560160.02S, 00120160.03S, 00430160.01S, 00430320.01S and 00570160.03S. Millimeter diameter is measured across the inside of the cap's opening...
---
24oz (.75 litre) refillable water bottle. Soft low density material for easy squeezing. SKS Germany branded. Large mouth for ice and cleaning. Screw top design. BPA free Certified by EU standards.
---
Standard 1911 picatinny rail dimensions.
---
Love ComBloc Guns? Show it! Makarov, Tokarev, Mosin Nagant, AK74, VZ-58, Draco, AMD-65, Yugo SKS. Quality t-shirt featuring just a few guns from the former Communist Bloc countries. Lightweight, Classic fit, Double-needle sleeve and bottom hem.
---
100% Handmade Genuine Leather + 100% No Splicing + 100% Durable and Flexible Anti-slip Rubber Sole. Cushioned insole and breathable leather lining give you exceptional support for your performance. Laid-back slip-on design for quick and easy on and off....
---