Brand A-Z
Sawyer (61 to 63 of 63)
---
--- Sawyer Stay-Put Sunscreen SPF 30 uses a unique %u201CBreathable Matrix%u201D formula that gives you the best and most comfortable protection you have ever experienced. While most sunscreens hold the lotions in the top two layers of skin, Sawyer's %u201Cbonds%u201D...
--- Sawyer Tick Pliers are the safest, fastest, and most effective way to remove ticks from people and pets. The handy Tick Pliers removes ticks from anywhere safely without squeezing, twisting, or even touching the tick. Features: Works well for tick removal...
---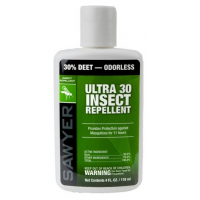 Sawyer Bug Repellent Ultra 30 Liposome Controlled Release Lotion SP534. Similar to the earlier generation of polymer-based controlled release systems the Liposome envelops the active ingredient DEET and slowly time-releases it as needed thereby extending...
---