Brand A-Z
Rossignol (1 to 7 of 7)
---
--- Thislightweightskiisgreatforofftrailexploringandlighton-trailuse.Thelowmaintenancewax-lessPositrackbaseprovidessuperiorgrip,whilethefulllengthmetaledgesandtallercamberheightprovideoffandontrailversatility.. . Fullmetaledges. WaxlessPositrackbase. ForuseinNordictracksandthebackcountry....
--- Designed for entry-level skiers at an affordable price point, the EVO GLADE 59 AR features smaller, more accessible sizes for increased maneuverability and control. Waxless AR Plus bases provide a good blend of grip and glide with no prep. Compatible...
--- This ski package is great for the novice cross country skier who focuses on groomed tracks. The lightweight Wood Air Core provides support and propulsion, while the Double Cut Base offers low maintenance fair gliding properties.. . Cross Country. Wood...
--- Bridging the gap between off-trail and backcountry touring, the EVO OT 65 features wider dimensions and partial metal edges for increased off-trail versatility and control. Smaller, more accessible sizes allow for increased maneuverability, while waxless...
---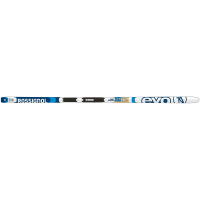 A user-friendly, waxless touring ski, the EVO TOUR 60 is designed for recreational skiers and active winter enthusiasts. Smaller, more accessible sizes allow increased maneuverability and control, while waxless Positrack bases provide the best blend of...
--- These easy to use, wax-less touring skis are perfect for both on trail and off trail adventures alike.. . Cross-country skiing. Great for groomed and ungroomed trails. Wood core. Wax-less base. Skis and bindings are shipped unmounted and unadjusted....
--- The XT 700 is a lightweight and durable 5086 aluminum touring pole. Features a bi-injected grip, standard strap, and touring basket.. . Size Available: 130, 135, 140, 145, 150, 155, 160, 165. Strap: Standard. Basket: Touring (Black). Tip: Steel Tip. Shaft:...
---
Used Book in Good Condition.
---
Used Book in Good Condition.
---
Used Book in Good Condition.
---
Rossignol Squad Pro Kid Kids Skis 93cm with Rossignol comp kid adjustable bindings NEW. Forgiving Composite Core Bindings mount on skis. adjustable bindings fit boots sole/shell size 210-270mm( mm size is always listed on the shell/soles of the boots...
---
VEST ROSSIGNOL, POLYAMIDE 100%, color BLACK, FW15, product code MCBI365008O. FW15.
---