Brand A-Z
Potable Aqua (1 to 6 of 6)
---
---
Potable Aqua iodine tablets kill bacteria, viruses and giardia while taste-neutralizing tablets help rid treated water of the iodine taste.
---
Potable Aqua iodine tablets are a lightweight and economical way to make water suitable for drinking.
---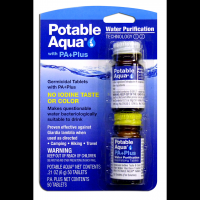 Potable Aqua Water Purification tablets with PA+Plus lead the way in making small quantities of even the most bacteriologically questionable water suitable to drink. Iodine-based water purification tablets and PA+Plus neutralizing tablets. Wipes out bacteria...
---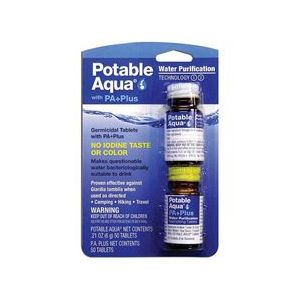 A revolutionary two stage process that makes water bacteriologically safe to drink and taste good. After treating water with Potable Aqua, simply drop 1-2 tablets of the neutralizer into the water and wait 3-5 minutes for clear, great tasting water. It...
---
One of the smallest, easiest and most cost-effective water purification devices on the market, the Pure inactivates viruses, bacteria and protozoan cysts without prefiltering, pumping or stirring.
---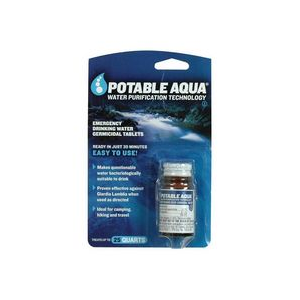 An iodine based tablet that works on all bacteriologically impure water. One bottle contains 50 tablets and will purify 25 to 50 quarts of water, depending on source of water. 371240 , Potable Aqua Water Purification Tablets , purifying water tablets...
---