Brand A-Z
Pistil (1 to 10 of 11)
---
---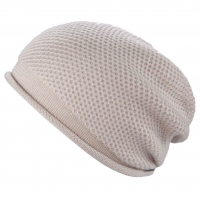 PISTIL Frisco Beanie. . . . Strike the balance between easy-going and subtly sophisticated with the Frisco. Super-soft polyester/wool yarns are knit in a pattern that transitions from waffle (at the crown) to smooth (at the forehead) to rolled (along...
--- Perfect for summer at the seaside, the Pistil Hilary Hat is made with a blend of crisp linen and cotton with striped accents and a sun-protective brim. Adjustable fit with a toggle at the back. . Crisp linen and cotton fabric blend. Full brim for protection...
--- A versatile, classic style is ready to help you stay warm in the outdoors. A nubby knit exterior, complemented by a lined interior, helps trap body heat and control moisture, no matter if you're doing your daily commute or walking the trails. . Made out...
--- Headwear shouldn't be complicated, but you should be able to rely on it during those cold moments during your day. Whether you're high up on the trails or shoveling through a foot of snow, this beanie delivers simple yet dependable warmth with boiled...
--- Crafted from a soft alpaca and acrylic blended material, the Tatiana Scarf provides a cozy feel while effortlessly complementing your favorite outfits. Alpaca and acrylic blend. Fringed ends. Cage knit details on ends. Can be worn multiple ways. ...
--- For a tropical spin on wide-brimmed sun protection, the Tristan Hat depicts dense foliage in a soft tonal print on lightweight cotton. Folds for travel. . Cotton fabric with a soft tonal print. Lightweight and packable-can be folded for travel. Rounded...
--- When the colder weather calls for some extra bundling, throw on the Avalon Neck Warmer for the warmth you need. Featuring a bulk-free design and soft acrylic fabric, this neck warmer offers a simple solution for wintery conditions. Soft acrylic materials....
--- Combining comfort and style just for winter, this hat plays a multicolored horizontal striped pattern off a merino wool blend and interior lining. Together, the construction holds onto body heat, feels extremely soft, and controls temperature and perspiration....
--- Feminine on the outside and practical on the interior, this hat adds a two-toned geometric pattern to match your own sense of style. But, built for trips outdoors, its lined design holds onto warmth, while wool then controls temperature and perspiration....
--- A sporty hand-knit classic that thrives in cold weather, Pistil's Riley Beanie will warm your head with its fuzzy angora yarn blend. . Fuzzy, feminine yarn blend of wool, angora, and nylon for warmth, softness, and texture. Lined at the ears and forehead...
---