Brand A-Z
Optimus (1 to 10 of 26)
---
---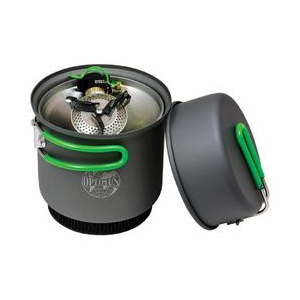 Make meal time as enjoyable as hiking time with the Crux w/ Terra Weekend HE Cookset from Optimus. With a 3 min boil time and its three piece versatility, you won't have to prep time or weight. PRODUCT FEATURES: Boil time: 3 min (1 liter) Weight: 2.92...
---
Optimus Camp & Hike Canister Stand 8018910. It fits small and large canisters up to 16 oz / 450 g the Canister Stand is an essential for your camping experience.
--- Tiny and lightweight for extra easy packing with a durable construction, you can't go wrong with this foldable stove from Optimus. The Crux features 3000 w burners that distribute heat evenly for better cooking and no spot burning. When you need to pack...
---
If you cut off your toothbrush handle to save weight, you'll appreciate the Optimus Crux Lite stove. It has all the performance of the regular Crux, but trims 11g by eliminating the folding mechanism.
---
The Optimus Crux Lite stove and Terra Solo cook system are a tiny little bundle to help you escape the daily grind-including an ultralight, precision-simmering stove, pot, fry pan and mesh bag.
---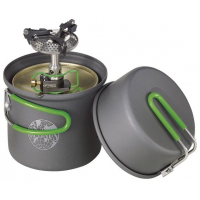 Optimus Backpacking Canister Stoves Crux Lite w/Terra Solo Cook Set 8019749. No thinking necessary with this versatile package that includes the feather-light precision-simmering Crux Lite stove and the Terra Solo Cook Set now with a non-stick coating...
---
Need a featherlight yet dependable backpacking stove? Look no further. The compact Optimus Crux stove is a tiny little beauty that snuggles right into the cavity at the bottom of your gas cartridge.
---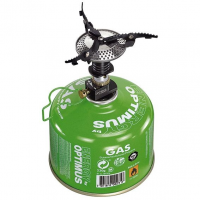 Optimus Backpacking Canister Stoves Crux w/Terra Weekend HE Cook Set 8019743. Weighing in at an ultralight 358 g total the package includes their feather light Crux cooking wonder plus the entire super light Weekend HE Cook Set with two pieces of cookware:...
--- Fuel-efficient, high-performing, lightweight cooking system. Set includes: Optimus Crux Lite stove, Optimus Terra Weekend .95 L anodized aluminum pot set, clip-on windshield, and a handheld Piezo lighter. Efficient cook system provides 20% fuel savings,...
---
Designed for fuel efficiency, the Optimus Elektra FE cook system is a lightweight set with nearly everything you need to make an open-air meal in the backcountry.
---