Brand A-Z
Nordic Pocket Saw (1 to 1 of 1)
---
---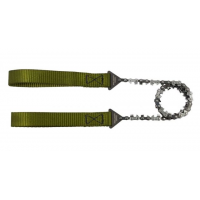 Nordic Pocket Saw Camp & Hike Pocket Saw-Green NPSG. Nordic Pocket Saw is a manual chainsaw that combines low weight and high packability with raw power. Ideal for demanding outdoor activities and developed to endure the harsh Nordic conditions. Nordic...
---
LOW WEIGHT, HIGH PACKABILITY AND RAW POWER - That is what signifies Nordic Pocket Saw and makes it an essential companion for your outdoor adventures.. SWEDISH LEATHER - 100% ORGANIC AND CERTIFIED LEATHER FROM SWEDISH FARMS - case and handles are made...
---
✔LENGTH MATTERS - While other 24 inch saws are too short, too weak, or simply just break after a few uses, our saw has a full longer, thicker 36" chain (EXCLUDING HANDLES). The bi directional, self cleaning chainsaw style cutting teeth tears through...
---
WHY YOU NEED IT: If you too have problems with sleeping, sleep deprivation or even more serious conditions , then we have an item that can help you get the peaceful sleep you have been dreaming of for a long time: the Waowoo weighted blanket. It will...
---
5-PIECE TIERED CAKE SET includes a 6 x 3, 8 x 3, 10 x 3, 12 x 3 and 14 x 3 inch cake pan.. ANODIZED ALUMINUM - It's the ideal baking surface. Our 'Safe-Seal' anodizing process creates a safer, stronger baking pan. A durable, non-reactive finish that bakes...
---
Satin Blade Finish. Nail Nick Opening. Classic Lock Back Design. Designed by Jesper Voxnaes in Loegstrup, Denmark. Limited Lifetime Warranty covers any defects in materials or workmanship, see company site for details.
---