Brand A-Z
Nite Ize (1 to 10 of 40)
---
--- Constructed with a malleable wire interior and a durable rubber exterior, this 12-inch Gear Tie allows you to easily bundle and connect your gear. Featuring a simple wrap-and-twist functionality, this waterproof and reusable tie is dedicated to making...
--- Get organized better, starting with this set of Nite Ize ties. A versatile, soft rubber option, sold in a set of two, offers a durable, waterproof, and UV-resistant construction that can tie up cables, keep your cords together, and close bags, amongst...
--- Good things come in small packages. The full-featured Nite Ize 3-in-1 LED Mini flashlight fits easily into your pocket, and can illuminate the night as a flashlight, lantern or safety light.
--- A durable, flexible, and sleek way to stay connected while hiking, running, or biking, the Nite Ize Action Arm Band keeps your phone or iPod touch safe without compromising visibility or functionality. . Flexible, seamless design stays comfortable during...
---
The innovative Nite Ize BugLit LED Micro flashlight sports a fun, cool design that's exceptionally useful in a wide variety of applications.
--- Designed to lock securely into place with a simple pull of a cord, the Nite Ize CamJam is an easy, knot-free way to tighten, tension, and secure lighter loads of all kinds. Made of sturdy, durable plastic, it features a carabiner clip with a stainless...
--- The Nite Ize CamJam XT Aluminum Cord Tightener w/Rope feature Nite Ize signature, knot-free CamJam tightening and tensioning technology. Built from durable, cast aluminum, this rugged combination of carabiner and cam mechanism is designed to tighten,...
---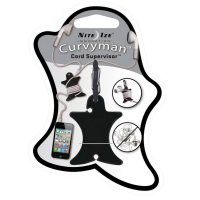 Don't let his cute little shape fool you. When it comes to tangled headsets and knotted-up ear buds, the Nite Ize Curvyman is all business. . Unique durable lightweight plastic shape keeps unruly ear buds and headsets in order. Size #0 plastic S-Biner...
--- The Nite Ize Curvyman Cord Supervisor keeps unruly ear buds and headphones tangle-free and organized when not in use.
--- The Disc-O is a 10.5-inch diameter plastic flying disc that is lit with LED and fiber optic technology. Colors change on the fly!. Flies like a true sport disc. Great for all ages and skill levels. Easy to replace the 2 lithium coin-cell batteries. Batteries...
---