Brand A-Z
Nikwax (1 to 10 of 31)
---
---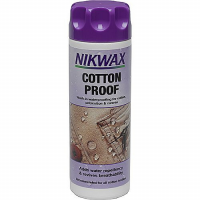 Cotton clothing absorbs considerable amounts of water. It can also be dangerous because it evaporates so quickly. "Cotton kills" is the adage of many outdoor enthusiasts because they know that it will contribute to hypothermia in wet, cold conditions....
---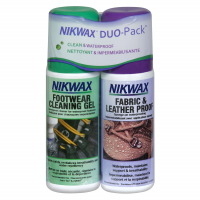 The Fabric and Leather DUO-Pack from Nikwax is a 4.2 fl. oz. bottle of waterproofing and care product for nylon and leather combination footwear. ItG??s safe on footwear with waterproof/breathable linings and includes a 4.2 fl. oz. bottle of cleaner for...
---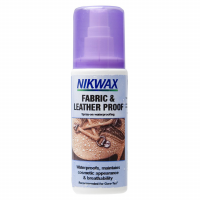 Prepare your favorite footwear for wet weather by applying the Nikwax Fabric & Leather Footwear Spray-On treatment to boost water-repellency and breathability. This Nikwax product performs ideally with footwear, built with waterproof inserts like Gore-Tex....
---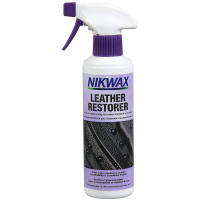 Nikwax Leather Restorer is a water based waterproofing conditioner for all waterproof leather clothing, equipment and accessories. It adds water repellency, revives breathability and conditions full-grain leather- specifically designed and optimized for...
---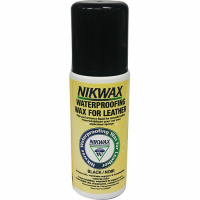 Waterproof your boots and trail shoes with a liquid solution of Waterproofing Wax for Leather from Nikwax - a safe treatment that waterproofs, maintains support and breathability and works immediately after treating and without softening the leather.
--- Very effective liquid cleanser for down garments and sleeping bags. Restores the loft and natural water repellency of down insulation. Recommended for use in large-capacity, front-loading commercial washers. Nondetergent formula is biodegradable. ...
---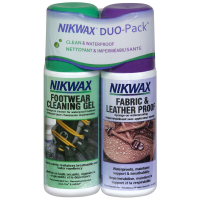 Prolong the life and performance of your footwear with Nikwax-the Cleaning Gel removes dirt and prepares footwear for the Fabric & Leather Proof water-repellent treatment. . Twin Pack includes: Footwear Cleaning Gel and Fabric and Leather Proof. Both...
--- Maximum waterproof protection with little or no change to appearance or texture of boot. . Water-based formula is drawn to areas that need it most. Safe to use on boots that have waterproof/breathable linings; will not impair breathability. For best results...
---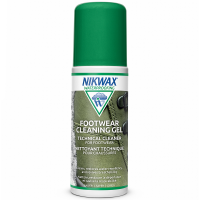 An easy-to-use cleaner for all outdoor and sports footwear, including shoes and boots made of smooth leather, suede, nubuck, or fabric.
---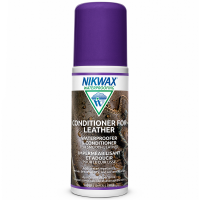 An easy-to-use waterproof conditioner for all full-grain leather footwear. Softens, revives breathablity, and waterproofs. Recommended for leather/Gore-Tex footwear. Water based. No propellant gases; nontoxic. Sponge-on applicator. 4.2 fluid ounces
---