Brand A-Z
Nikwax (1 to 10 of 17)
---
---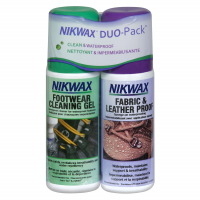 The Fabric and Leather DUO-Pack from Nikwax is a 4.2 fl. oz. bottle of waterproofing and care product for nylon and leather combination footwear. ItG??s safe on footwear with waterproof/breathable linings and includes a 4.2 fl. oz. bottle of cleaner for...
---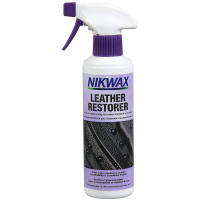 Nikwax Leather Restorer is a water based waterproofing conditioner for all waterproof leather clothing, equipment and accessories. It adds water repellency, revives breathability and conditions full-grain leather- specifically designed and optimized for...
---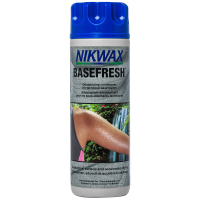 Nikwax BaseFresh is a deodorizing conditioner for all technical underwear and wicking clothing worn next to the skin. . Improves wicking, accelerates drying, improves cooling efficiency of all base layers. Removes and prevents odor build up-refreshes...
---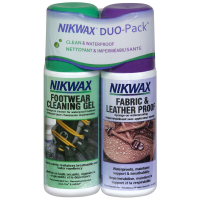 Prolong the life and performance of your footwear with Nikwax-the Cleaning Gel removes dirt and prepares footwear for the Fabric & Leather Proof water-repellent treatment. . Twin Pack includes: Footwear Cleaning Gel and Fabric and Leather Proof. Both...
---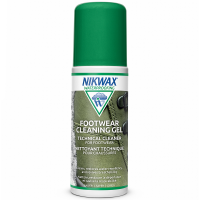 An easy-to-use cleaner for all outdoor and sports footwear, including shoes and boots made of smooth leather, suede, nubuck, or fabric.
---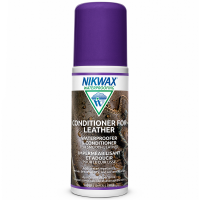 An easy-to-use waterproof conditioner for all full-grain leather footwear. Softens, revives breathablity, and waterproofs. Recommended for leather/Gore-Tex footwear. Water based. No propellant gases; nontoxic. Sponge-on applicator. 4.2 fluid ounces
---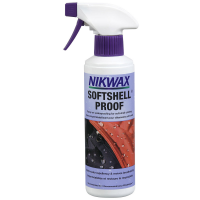 Restore the water repellency of your gear with the Nikwax(R) Softshell Proof, the spray on makes even application simple. Restores the DWR (durable water repellant) coating that makes water bead up and run off your jacket. Nikwax will not affect the breathability...
---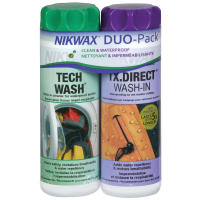 Prolong the life of your gear and optimize outdoor performance with this Nikwax Twin Pack. Tech Wash cleans your waterproof/breathable garments, while TX.Direct restores the DWR (durable water repellent) finish to fabrics without wicking liners. Twin...
---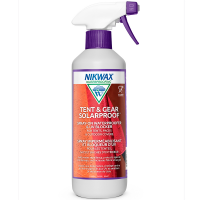 Protect against UV damage and add water repellency to tents packs, panniers, camera bags and other gear with Nikwax Tent and Gear Solarproof. Spray-on application. Maintains or adds water repellency to new or used tents and outdoor gear. Protects tents...
--- Nikwax TX.Direct is a safe, easy-to-use, high-performance wash-in that adds water repellency to waterproof, breathable outerwear, while maintaining breathability. . DWR (durable water repellency) on the outer surface of waterproof, breathable fabrics...
---