Brand A-Z
Mpowerd (1 to 10 of 12)
---
---
The Luci EMRG Solar Lantern + FREE 11-in-1 Survival Wallet Tool Includes: 1 - Luci EMRG Solar Lantern 1 - 11-in-1 Survival Wallet Tool Luminous Lantern Meets Pocket-Sized Preparedness  Completely powered by the sun, the Luci Solar Lantern produces...
--- The flameless flicker of this MPOWERD Luci Candle inflatable solar lantern evokes the warm radiance of a candle, providing a soothing vibe in your tent or cabin, or on your dock or boat.
--- Mood lighting-for when you're in the mood for fun! The MPOWERD Luci Color Essence solar lantern has 10 LEDs that cycle through 8 colors, or select just one for settings from chill to party time.
--- Surround yourself with color and take the decor of your cabin, campsite or boat to a new level with the MPOWERD Luci Color Essence Mini Trio set of 3 inflatable solar lanterns, featuring 4 vivid hues.
---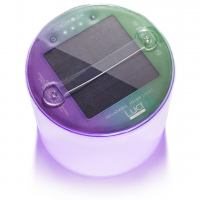 Whether youre relaxing on the dock or going for an evening swim after a long days hike, the solar powered Luci Aura will light up your night. Built with nine modes and eight unique colors, this lightweight and collapsible light will help you achieve a...
--- A trusty outdoor pal, this ultrabright, pocket-size MPOWERD Luci EMRG LED solar lantern also serves as a flashlight and S.O.S. beacon-ideal for camping, hiking, travel and emergencies.
--- This lightweight, inflatable MPOWERD Luci Lux solar lantern lights up your tent, campsite or patio party with an inviting glow-great for hanging with friends, or night reading.
--- The Luci Lux Pro solar lantern offers a warm, natural glow to set the mood. The 2-way USB port fully charges it in just a few hours, or lets you top off your smartphone with the power of the sun.
---
Luci Original Solar Lantern Inflatable Light with FREE Survival Tips Playing Cards Includes: 1 - Lightweight, Inflatable LED Solar Light  1 - FREE Deck of Survival Tips Playing Cards ($6.97 VALUE) Long-Lasting, Palm-Sized Solar-Powered Light This is...
--- No matter how far off the grid you go, the MPOWERD Luci Outdoor 2.0 inflatable solar lantern harnesses the sun's energy and light to keep you out of the dark for up to 24 hrs. between charges.
---