Brand A-Z
Motorola (1 to 6 of 6)
---
---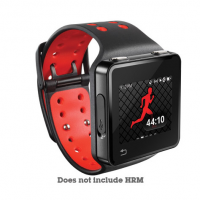 The MOTOACTV sports wrist strap provides easy access to your device while you walk, run or cycle. . It wears like a wristwatch, fits most wrist sizes, is a quick, secure attachment and quite stylish. Sports wrist straps come in a variety of vibrant colors....
---
The Motorola T100 2-way radio set has 22 channels and a range of up to 16 miles so you can stay in touch with family and friends on ski hills or bike trails, whether there's cell reception or not.
---
Keep in contact with your adventure buddies-the Motorola T260 2-way radios have 22 channels and a range of up to 25 miles so you can cover lots of ground without worrying about losing touch.
---
Keep in touch with others from up to 35 miles away, whether you're just saying hi or need emergency help, and get real-time weather alerts with the weatherproof Motorola T460 2-way radio set.
---
The Motorola T600 H20 2-way radios will keep you in contact with your adventure partners on land or water, thanks to a 35-mile range and a floating, waterproof design and LEDs that light up in water.
---
No cell service? No problem. The Motorola Talkabout T800 2-Way radio allows you to track and share locations with all your travel companions.
---
TOP INTERNET SPEEDS FOR ALL CABLE INTERNET SERVICES - Wirecutter recommends this as the best cable modem for people using Gigabit Internet plans. Built-in DOCSIS 3.1 and DOCSIS 3.0 32x8 capabilities give top Internet speeds for all cable Internet services,...
---
Model MB7621 is recommended for actual cable Internet service speeds up to 650 Mbps. Wirecutter rates this "the best modem for most people." A Full-Band Capture Digital Tuner ensures faster, more reliable Internet.. This cable modem's one Gigabit Ethernet...
---
Fast 24x8 DOCSIS 3.0 cable Modem Plus a built-in AC1900 Dual band (2.4GHz and 5GHz) Wi-Fi Gigabit Router with four Gigabit (GigE) Ethernet ports, power boost Wi-Fi amplifiers, firewall security, and more. The maximum modem speed is 1000 Mbps, supporting...
---
IP67 Waterproof: Count on the T600 H2O two-way waterproof radio to keep you connected whether on land or at sea ; Use the VibraCall feature where ringing can be intrusive ; The keypad lock prevents your personalized settings from being inadvertently changed.....
---
Perfectly fit for Motorola Moto G7 Play, NOT FIT MOTO G7/Motorola Moto G7 Power / Moto G7 Supra.. Built In Stand: Convenient for reading, watching movies, playing games and browsing the web.. High-temperature hot embossing technology leads to clear texture...
---