Brand A-Z
Mcnett (1 to 8 of 8)
---
--- Freesole Urethane Formula Shoe Repair is a urethane rubber repair system designed to restore and rebuild all types of footwear. Ideal for hiking boots, athletic shoes, climbing shoes, skateboard shoes, rollerblades, and more. Rebonds peeling soles and...
--- When your GORE-TEX clothing or gear tears, this patch kit offers a quick and effective temporary repair solution. Pressure-sensitive patches, in two shapes, can be pressed or ironed-on to the item to fully restore the waterproof, insulating material's...
--- Eliminate odor from your outdoor gear with McNett Mirazyme. Suitable for sport sandals, wetsuits, tents, outdoor and sports gear. Powerful blend of natural enzymes and microbes used to remove odors caused by mold, mildew, and bacteria. Works great to...
---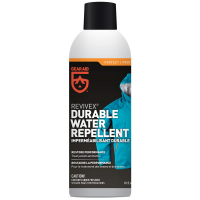 A durable water repellency (DWR) spray-on for outerwear. Perfect for revitalizing Gore-Tex jackets and pants. Long lasting; non-toxic; water based. 10 fluid ounces; treats 1 to 2 garments. Simply wash the garment, spray on the DWR, and tumble dry (follow...
---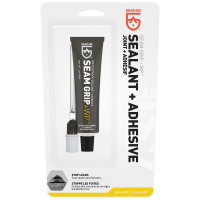 Keep this repair gel next to your duct tape. It permanently seals, bonds, and repairs tents, tarps, backpacks, rainwear, inflatable mattresses, footwear, gloves, tops for convertibles. and more. One-ounce tube, good for sealing seams on an average 2-person...
---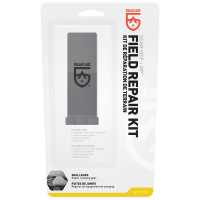 Compact and versatile, Seam Grip Field Repair Kit is ideal for repairing sleeping pads, tents, packs, outerwear, boot and shoes, gaiters, gloves, and more. Permanently and quickly repair tears/holes on sleeping pads, tents, packs, seal leaking seams/stitching...
--- Seam Sure(TM) is a fast-drying water-based urethane formula designed for sealing sewn seams on synthetic fabrics and breathable laminates. Ideal for tents, packs, and rainwear. Unique brush applicator allows easy application into needle holes, sewn joints,...
---
Super-aggressive adhesive tape that sticks to almost any surface and can be used for a variety of flexible, long-lasting repairs at home or in the field. Repairs fabric, vinyl, and rubber; stops rips from spreading. Ideal for backcountry repairs on tents,...
---
The original, ultra-compact driver's towel made of velvet soft microfiber. Pack down to the size of a paperback book, yet open to full beach towel size. They absorb 5 times their weight in water and dry quickly. Storage bag included with handle. Small:...
---
Incredibly small packed size fits easily into a backpack, travel pack or luggage. Fast and easy drying-hand wringing removes almost all water and provides fastest dry time. Includes convenient hanging loop. Microfiber weave dries faster than regular towels....
---
---
Quality field tested to help you in during your outdoor situations. Easy to use and transport. Built for the most extreme situations. Complete cleaning and maintenance system for all types of B.C.D.s.. Regular cleaning leaves B.C.D. shell, interior lining,...
---
Patented eye mask for sleeping; allows for more restful R.E.M. sleep. Patented, form-fitting design will effectively block light without pressing on your eyes making restful sleep easier. Compact and lightweight sleep mask; one size fits all. Better sleep...
---