Brand A-Z
Leatherman (1 to 10 of 35)
---
---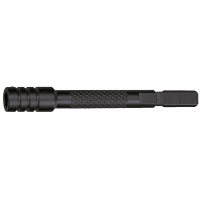 Extend your reach with the 3.25 in. Bit Driver Extender. . Holds standard Leatherman bits and standard hex bits. For use with any Leatherman tool or knife that features a large bit driver. Charge models, Surge, Wave, e306x/e307x, k502x/k503x, h502/h503,...
--- With 19 tools including a corrosion-resistant stainless-steel knife and scissors that slice through almost anything, the Leatherman Charge Plus multitool is your adventure-ready partner in crime.
--- Ready for tough tasks big and small, the Leatherman Charge Plus TTi multi-tool combines top-requested features with premium materials and upgraded, replaceable wire cutters.
--- With a handy array of 10 tools that fits on your keychain, the Leatherman Classics Micra multi-tool is perfect for a tackle box, pocket, or fanny pack, packed into its limited edition leather sheath.
--- An instant hit on job sites or home projects, the slim Leatherman Classics Rebar multi-tool packs the features you need to get tough jobs done, now with a limited-edition heritage leather sheath.
--- Based on Tim Leatherman's original 1983 design, the classic Leatherman PST Limited Edition multitool boasts all the simplicity, utility and portability that made Leatherman tools a household name.
--- The Leatherman Crater c33Tx knife combines a handy blade with 2 screwdrivers. Never be stuck saying, "I only have my knife" again!
--- The rugged Leatherman Crater C33x serrated knife offers a straightforward, easy-to-deploy implement with a lightweight, simple design.
---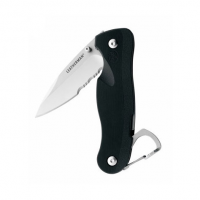 Sometimes all you need is a simple, lightweight, quick-to-deploy knife and with the Leatherman Crater c33 folding knife, that's what you get.. . . . 420HC Stainless Steel Drop Point Knife (Combo Straight/Serrated Blade on c33x). Bottle opener/carabiner...
--- With a blade that featured topo-map art and is as easy to access as your favorite pocket knife, the Leatherman Freestyle Topo multi-tool equips you with a combo blade, pliers and wire cutters.
---