Brand A-Z
Leatherman Tool Group Inc. (1 to 10 of 15)
---
---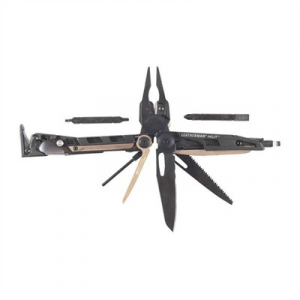 Versatile multi-tool packs classic Leatherman features, plus specific tools for the military, law enforcement, civilian, and competition AR-15/M16 shooter. Not only will the MUT help you perform routine maintenance and adjustment tasks on the basic AR...
---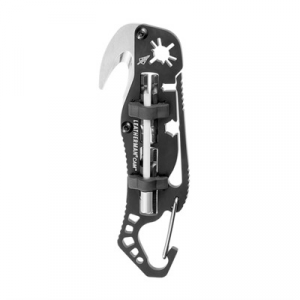 The Cam is a multi-purpose, single-piece pocket tool crafted from heat-treated stainless steel. This powerhouse is perfect for bow maintenance on the hunt or at the range. Eight bit options and a broadhead wrench and sharpener means you'll have everything...
---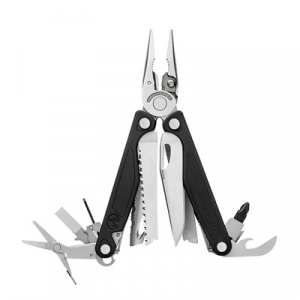 Every tool on the ultra-useful Charge Plus makes it adventure-worthy. The scissors slice through anything, the wire cutters are made in a durable material and are replaceable, and the knife blade is made in a strong, corrosion-resistant 154CM steel. Need...
---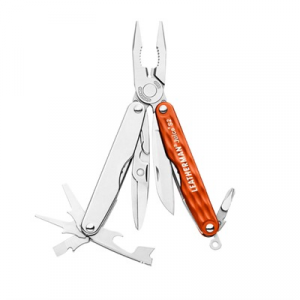 The Leatherman Juice S2 is definitely cutting edge. Slim and lightweight, the S2 features full-size scissors and a host of other can't-live-without-'em tools. Perfect for the hobby box, junk drawer, or glove box, and now available with all new textured...
---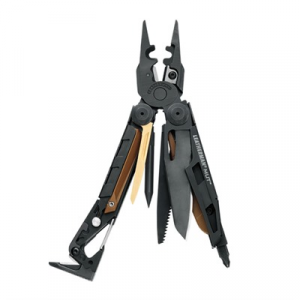 When you're under pressure, the last thing you need to be worried about is having the right tools on you at the right time. From cap crimpers, a beefy field blade, and fuse-wire cutters, to a carbon scraper, bolt override tool and a replaceable C4 punch,...
---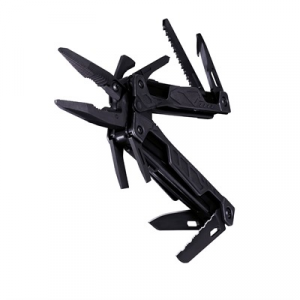 For years multi-tool users could choose from two distinct options when it came to a "one-hand-operable" multi-tool: one-hand-opening pliers OR one-hand-opening blades. Today, Leatherman has taken these two well-loved ideas and fused them into the first...
---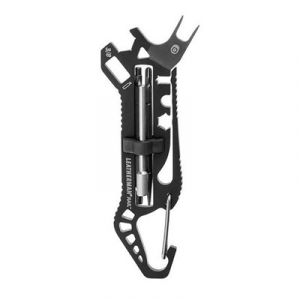 AR maintenance has never been more easy or lightweight. Introducing the Rail, a 100% heat-treated stainless steel pocket tool specifically designed for an AR. Make adjustments on-the-fly with drivers for Leatherman bits, standard hex bits, and the included...
---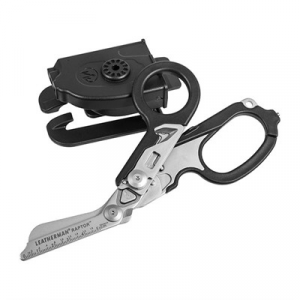 The Leatherman Raptor shears features the necessary tools for uniformed medical professionals to safely and quickly go to work in an emergency situation. Developed with the input of special operations medics, EMTs and fire professionals familiar with...
---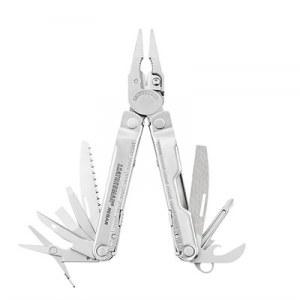 Leatherman fans will immediately recognize the iconic box-like shape found in Tim Leatherman's original PST design. The Rebar pliers have been optimized for strength and feature replaceable wire/hard-wire cutters-a first for a four-inch tool from Leatherman....
---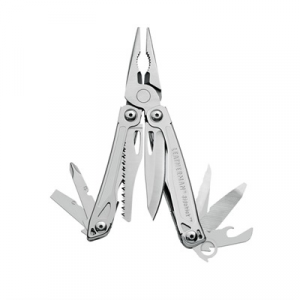 This handy pocket-sized tool has all the features you need to get your project done, at a fraction of the cost. The handy, outside-accessible blades mean you can open the knife with just one hand and rounded handles make getting a grip around their all-new,...
---
READY FOR ANYTHING: The Rev is a toolbox in your pocket. Put it to the test under the hood, at the campground, or around the house. And when the day is done, crack open a cold one and celebrate your new favorite multitool.. FIT MORE FUNCTIONALITY: Needlenose...
---
ALWAYS ON HAND: Keep your Leatherman on hand at all times: because the greatest tool is the one you have when you need it.. FIT MORE FUNCTIONALITY: Multitool? Check. Bit extender? Check. Extra bits? Check. With three elastic pockets and a roomy main compartment,...
---
READY FOR ANYTHING: The Juice CS4 features the same power and features as our full-size multitools, all in one small package. It's perfect for pockets, glove boxes, and junk drawers.. FIT MORE FUNCTIONALITY: Needlenose and regular pliers, hard and regular...
---