Brand A-Z
Lansky Sharpeners (1 to 3 of 3)
---
---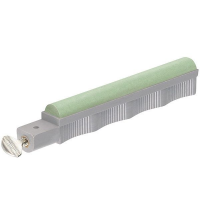 Lansky Sharpeners Camp & Hike Lansky Curved Blade Hone Ultra Fine HR1000. This set of hones will quickly bring any inwardly curved blade from completely dull to razor sharp.
---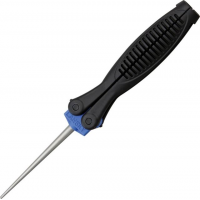 Lansky Sharpeners Camp & Hike Folding Tapered Diamond LS09735 TR600. The fine (600 grit) tapered rod folds into the ergonomic nylon impregnated plastic handle for protection and ease of carrying. Lansky Tapered Diamond Rod is ideal for every workshop....
---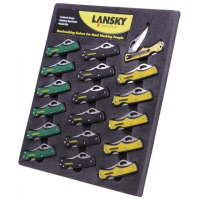 "Lansky Sharpeners Camp & Hike Lansky Small Lockback Display 18 Piece LKN045. Knives are constructed of 420 stainless steel pins blades and bolsters and impact resistant ABS handles with rubber grip inserts. Blade length is 2 1/4 handle length 3 1/4....
---
Includes Extra Coarse Diamond (70 grit), Coarse Diamond (120 grit), Medium Diamond (280 grit), and Fine Diamond (600 grit) Hones. Precision-engineered, multi-angle, flip-over knife clamp. Sharpening hones on color-coated, finger-grooved safety holders,...
---
4 sharpening angles (17º, 20º, 25º, and 30º). 800 grit ceramic Bench stone for fine polishing and serrations. 600 grit medium ceramic pull-through slots. Durable metal casing. 100% compatible with all Lansky Controlled-Angle Systems & Turn Boxes....
---
Easy to use. Can be used in field. Can be used in shop. works with all tupes of blades and axes. easy to use.
---
Deluxe 5-stone knife sharpening system for kitchen, outdoor, hobby, or garden knives. Includes extra-coarse, coarse, medium, fine alumina oxide, and extra-fine ceramic hones. Controlled-angle sharpening system with 17-, 20-, 25-, and 30-degree angle options....
---
Field repairs on all blades. Works with standard, serrated, gut hook, and fillet knives. Carbide, ceramic, and diamond sharpeners. Tungsten Carbide-Three Or Four Strokes Will Restore Your Blade. Ceramic Sharpening Rods-Polist To A Finished Edge In Three...
---