Brand A-Z
Komperdell (1 to 10 of 24)
---
--- Durable and compact, the Komperdell Adventure Contour Powerlock Compact trekking poles provides lightweight support and allow you to customize height with 1 click.
--- Adjustable with a single click and durable enough for extended support, the Komperdell Adventure Contour Powerlock trekking poles are dependable hiking companions.
--- Delivering lightweight strength for alpine adventures, the Komperdell Ascent Carbon Tour trekking poles help you forge your way up steep slopes and down winding, technical descents.
--- Climb up steep slopes and navigate gnarly backcountry descents with the help of the Komperdell Ascent Carbon Tour trekking poles, delivering lightweight strength for mountain adventures.
---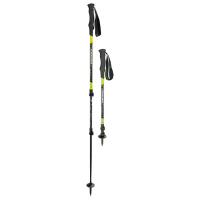 Komperdell C3 Carbon Powerlock Pole
--- Perfect for all of your hiking and backpacking adventures, the compact and lightweight Komperdell Carbon Approach Vario 3 trekking poles feature an innovative and convenient 3-section folding design.
--- Designed for hikers, backpackers and mountaineers, the Komperdell Carbon Expedition Tour Compact trekking poles are lightweight and highly packable without sacrificing robust support.
--- Built to tackle tough terrain, the 3-section Komperdell Carbon Powerlock trekking poles sport a blend of carbon and Titanal.HF aluminum for lightweight, durable support on the trail.
--- Made in Austria, the 3-part Komperdell Carbon Ultralite Vario 4 trekking poles are adjustable, foldable and lightweight-perfect for hiking, backpacking and traveling, when space is at a premium.
--- Throw your joints a little help on your next hike. The Komperdell Highlander Cork Antishock trekking poles minimize impact and help you keep moving in comfort with lightweight cork grips.
---