Brand A-Z
Jetboil (21 to 30 of 38)
---
---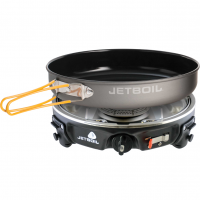 Grow your own! Go gourmet and custom grow the scale of your cooking system based on the size of your team with HalfGen, the world
---
Stop shaking cans and hauling extra fuel you don't need. The lightweight Jetboil JetGauge canister weight scale measures the fuel level of any Jetboil canister so you can plan your trip accurately.
---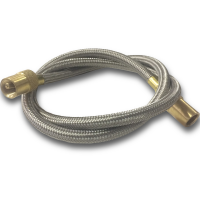 Expand your cooking setup at the campsite to whip up a full meal. Along with your stoves, be sure to bring along the JetLink(TM) hose, a simple solution for daisy-chaining Jetboil(R) and Eureka!(R) models. The result is a four-burner kitchen that takes...
---
Specifically designed for use with a Jetboil cooking system, this utensil set gives you a fork, spoon and spatula for all your camp kitchen needs.
---
Toast your summit with a hot meal even when the weather's anything but. The Jetboil Joule stove delivers unparalled performance in cold, snowy alpine environments and at high altitude.
---
Ideal for boiling water for fast food and drink to complement a base camp system, the Jetboil Luna Satellite Burner attaches to Jetboil multi-burner stoves to enhance camp cooking endeavors.
---
The Jetboil MicroMo Cooking System balances clean lines and travel-friendly weight with uncompromising cooking performance for your backpacking adventures.
---
Expand your backcountry cuisine beyond freeze-dried humdrum. The Jetboil MightyMo stove works with your basic cookware and gives you the ability to simmer, saute or fry meals the way you do at home.
---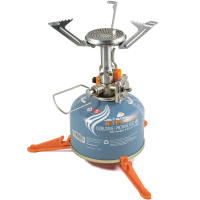 Introducing the ultra-stowable, single-burner stove that unleashes the power of a professional range. At 3.3 oz., it
---
Winner of Backpacker magazine's 2015 Editors' Choice Award, the MiniMo provides excellent simmer control and usability for making gourmet meals on your backpacking trips.
---