Brand A-Z
Implus (1 to 1 of 1)
---
---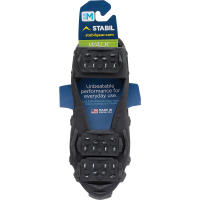 Featuring multi-directional cleats, the STABILicers
---
Lightweight and affordable slip-on traction cleats to reduce the risk of falls when walking on snow or ice to work, school, or even to the mailbox. Made of abrasion-resistant 1.2 mm steel coils with zinc coating to prevent rust; secured to shoes with...
---
Traction cleats that fit over shoes for safely walking, hiking, or jogging on packed snow or ice. Made of high-strength, abrasion-resistant 1.4 mm stainless-steel coils and heavy-duty rubber; secured to shoes with durable rubber straps. Provides 360 degrees...
---
Extra firm for aggressive deep-tissue compression and relief of aches and pains. Ideal for intense application on small areas like calves, piriformis, and pecs. Encourages blood and oxygen flow to enhance overall movement, range of motion and performance....
---
Ergonomic massage cane design targets hard-to-reach muscle aches and pains specifically in the neck, back and shoulders. Extra firm drop tip provides precise pressure for eliminating deep tissue knots and muscle soreness. Double massage ball design effectively...
---
【COMPATIBILITY 】Compatible W/ Bosch CS450, CS-51, CS-52, CS562, Comparable W/ RWF1100, WSB-1, 5586606, 5586605, WHCFR-PLUS And WHKF-IMPLUS. 【NSF CERTIFIED】NSF 42 Certified by WQA. EC1935/2004 Food Contacts Material Safety Certified by Regulation...
---