Brand A-Z
Gu (1 to 10 of 16)
---
--- The perfect match for Gu's 15 serving pouches, the Energy Flask lets you take a smaller portion along with you, without sacrificing your bodies needs. PRODUCT FEATURES: High-flow nozzle Holds 5-Servings of Energy Gel Includes marks on the back to measure...
--- GU Energy Chews offer a change of pace from gels and an answer to that moment in your run, ride, ski, swim, hike.... when you just gotta have something to chew on. GU Chews deliver the premium ingredients and performance benefits you've come to expect...
---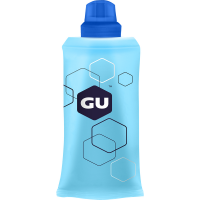 You depend on energy gels to refuel as you train, run a race, or make your way through the trails. But, as you know, the individual packets create waste - and are known to make your hands sticky. GU has developed a reusable solution specifically for this...
--- Get more energy while you're on the go with a GU Energy Chews pack. Each package has 2 servings that provide lasting energy for your adventures.
--- Sustain all forms of athletic activity with the highly compact, portable, and calorie-dense GU Energy Gels. They are packed with carbohydrates that can be rapidly absorbed.
--- GU Energy Labs offers their proven Energy Gels in bulk to give athletes another way to fuel up during long activities. Get 15 servings of the original GU Energy Gel in a handy resealable pouch.
--- A quick energy boost in a convenient, easily ingested form. Package of 24
--- When you need to eat something in the morning before training, grab a GU Gluten-Free Stroopwafel-a Dutch-style syrup waffle cookie that acts like an Energy Gel but tastes like breakfast.
--- Created for high-intensity and demanding activity, GU Roctane Energy Drink Mix packs even more electrolytes and carbohydrates. The 250-calorie serving contains carbohydrates (maltodextrin and fructose) that use non-competing pathways to help maximize...
--- Created primarily for hydration, GU Hydration Drink Tabs offer athletes a low-calorie drink option for before, during and after exercise.
---