Brand A-Z
Grayl (1 to 4 of 4)
---
---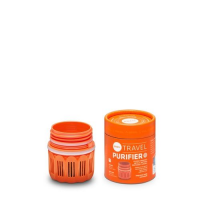 Grayl Camp & Hike Purifier Cartridge-Orange gry0002Orange. Designed to protect against viruses protozoa bacteria heavy metals and chemicals; the travel purifier is perfect for international use hiking camping canoeing fly fishing and most outdoor water...
--- For use with its Ultralight Water Purifier Bottle, the Grayl replacement purifier cartridge provides full-spectrum protection against virus, bacteria, protozoa, sediment, chemicals and heavy metals.
---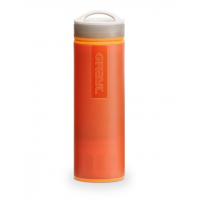 Grayl Camp & Hike Ultralight Purifier Bottle-Orange 321755. Providing full-spectrum protection against pathogens (viruses bacteria and protozoa) particulates chemicals and heavy metals the Ultralight is the perfect compadre for walking the globe traversing...
--- A fast, powerful, one-press mechanism on the Grayl Ultralight Water Purifier bottle makes safe, clean drinking water from nearly any freshwater source in 15 sec., so you won't have to buy bottled.
---
Compatible with all GRAYL Bottles. Interchangeable with GRAYL Purifier Cartridge. Not for use with unsafe water! For unsafe water, use GRAYL Purifier Cartridge.. Improves health, flavor, odor & clarity. Filters many chemicals (e.g. chlorine, iodine) and...
---
Ideal for global traveling, outdoor adventures, emergency preparedness, hiking, backpacking, camping, fishing, survival. Fast and easy-to-use, simply Fill. Press. Drink. No sucking, squeezing, pumping, prolonged waiting, ultraviolet bulbs, or batteries....
---
---
For use on all GRAYL Water Filtration Cups. Flow rate: 4 liters/minute. Press time: 7 seconds per 16 oz (473 ml). Filter lifespan: 300 uses (40 gal / 150 l). Materials: BPA-free plastic, food-grade silicone.
---
Material:95% RAYON/5% SPANDEX.Stretchy,Soft and Comfortable.. Features: Casual style,Knee length,Long sleeve,O-Neck,Super soft,Two pockets,Not lined. Fashion Mix: Beach Hat/Sweater Chain/Leather Jacket/Jeans Jacket/Knitwear/Different Types of Shoes. Occasion:...
---