Brand A-Z
Good To Go (1 to 10 of 47)
---
---
A delicious vegan backcountry meal to warm you up on a cold evening, the single-serving GOOD TO-GO Bibimbap features rice and veggies in a spicy gochujanga sauce made from Korean chilies.
---
Okra, chicken, rice and spices combine to create a deeply satisfying, gluten-free dish with the tasty GOOD TO-GO Chicken Gumbo dinner. Grab it and jazz up your next backpacking adventure.
---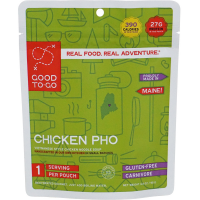 This popular street food is known the world over for its comforting affects. The steaming, savory and immensely aromatic broth is the foundation of this restorative dish. Notes of cinnamon and star anise, followed by fresh ginger and clove keep it authentic....
---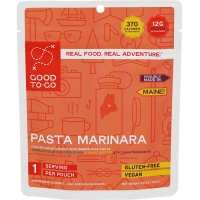 There is nothing more comforting than a steaming bowl of slow simmered marinara sauce over noodles. It warms your body and soul. Understanding that need, we've created a pasta dish that almost anyone can enjoy. Good To-Go's chef has found the most delicious...
---
A backpacking feast that'll warm both body and soul, this lightweight, single serving of GOOD TO-GO Classic Marinara with Penne blends low-simmered marinara sauce and delicious brown-rice penne.
---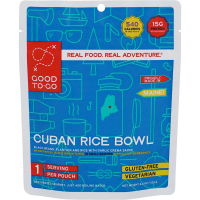 Cuban food to go? You bet. Big, bold flavors with a balanced spice take this rice bowl to new heights. The combination of rice and beans creates a complete protein-providing you with the all the amino acids you need to go that extra mile. While this meal...
---
Jazz up your next backpacking adventure with the tasty, New Orleans-style GOOD TO-GO Double Chicken Gumbo dinner. Okra, chicken, rice and spices combine for a deeply satisfying, gluten-free dish.
---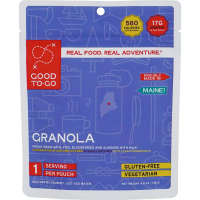 You usually start your day with a bowl of granola and milk, but when you're saving space in your pack, this combination adds too much weight. As a solution, Good To-Go brings together its small-batch recipe with dehydrated milk, providing everything you...
---
GOOD TO-GO pairs their delicious granola with whole milk to complete the meal. It's full of heart-healthy raw nuts and seeds, and flax for added protein and fiber.
---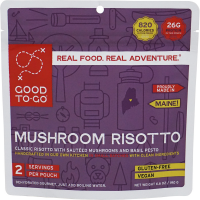 Good To-Go creates all natural, dehydrated gourmet meals that are light, easy to pack, and reconstitute to a delicious hot meal in just 20 minutes so you can enjoy a homemade meal anywhere you go. . Classic risotto with sauteed mushrooms and basil pesto....
---