Brand A-Z
Gerber (1 to 10 of 54)
---
--- Compact and effective, the Gerber 14.0 hatchet equips hikers and outdoor aficionados with the edge they need to chop kindling and split small logs. Black PTFE coating makes for an even sharper blade.
---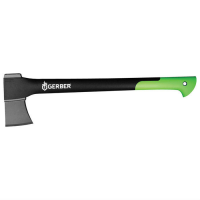 Don't let chopping wood wear you down. For those times outdoors, Gerber created an axe, featuring a hardened, forged steel blade, that takes efficiency to the max. Cuts go three times deeper, which means you get more done in less time and without exerting...
--- Ideal for chopping kindling and splitting small logs, the Gerber 9.0 hatchet travels well and features a black PTFE coating for a sharper edge.
--- A proven, everyday-carry design, the Gerber Airlift folding knife stands up to the daily grind with all-steel strength. Dual thumbstuds allow ambidextrous opening and a frame lock works with 1 hand.
---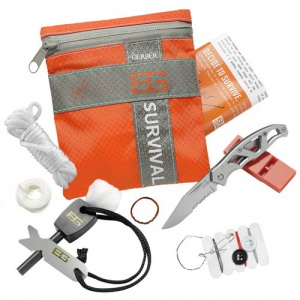 Stay prepared. Stay alive. That's what the GerberA(R) Bear Grylls Survival Pack is designed to help you do. The waterproof bag contains all the essentials for surviving in the outdoors. Designed by the survival expert Bear Grylls, star of the Discovery...
--- The Gerber Bear Grylls Ultimate knife is the pinnacle of the Bear Grylls Survival series. Designed with direct input from Bear himself, this blade features innovations not found on other knives.
--- The modern version of the traditional jungle machete, the Gerber Broadcut machete has a corrosion-resistant, fine-edge blade that is effective at breaking down dense brush.
--- The Gerber Compact Clearpath machete partners a corrosion-resistant, stainless-steel blade with the confidence of the tactile grip handle for a light, tough and packable tool.
---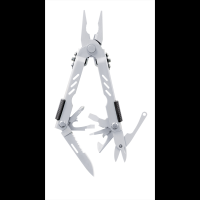 The Gerber Compact Sport Multi-Plier 400 multitool is compact and lightweight, and its stainless steel hardware-including Fiskars scissors and one-handed opening pliers-is super durable and easy to use. Built with all stainless steel components. Patented...
--- With superior materials and a utilitarian design, the Gerber Contrast AO serrated assisted opening knife features quick one-handed deployment and an easy-to-grip handle.
---