Brand A-Z
Gerber Legendary Blades (1 to 10 of 18)
---
---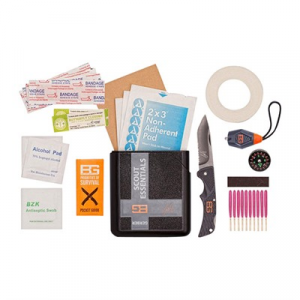 There are a few non-negotiable items that every outdoor adventurer must have. This is one of them. The Scout Essentials Kit has been designed by Bear Grylls and Gerber for absolute safety and survival in the wild. Every detail has been carefully considered;...
---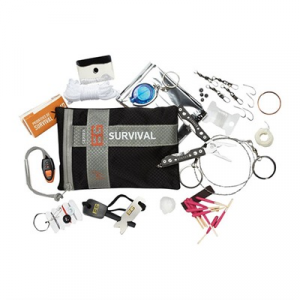 A survival kit built for hostile environments. Stick the Ultimate Kit in your backpack and hope your never have to use it. If you do, it has everything you need to survive in even the toughest spots. Contents: 16 Piece Kit Gerber Miniature Multi-tool...
---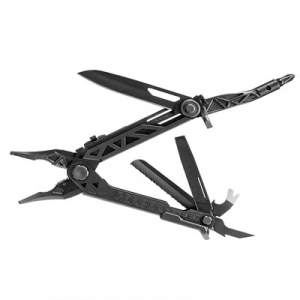 The Center-Drive from Gerber offers uncompromising performance through revolutionary design. The innovative center-axis driver opens with a one-thumb opening system to align like a real screw driver, yielding maximum torque and rotation. No productivity...
---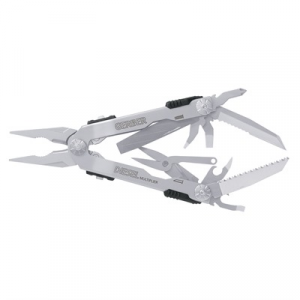 Big. Tough. Capable. Versatile. The Gerber Diesel is all of these things and more, available to you at the flick of a wrist. With true one-handed deployment, this tool is the ultimate in efficiency. The industrial strength components of the Gerber Diesel...
---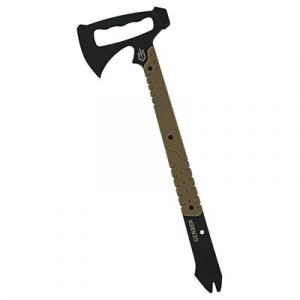 When you're in a situation where time is of the essence, you can't waste time wondering if you have the right tool for the job. No matter what's on the other side of that door or barrier, you want a tool with the same single-minded determination as the...
---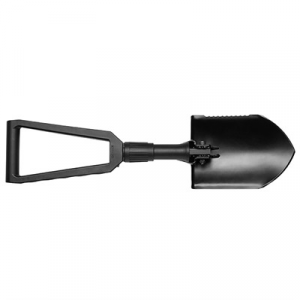 This is a military-grade digging tool for trenches and holes. Armed with a powder-coated, carbon steel shovel head and a serrated blade edge, the E-Tool is designed specifically to conquer tough digging problems in all types of terrain. The foldable body...
---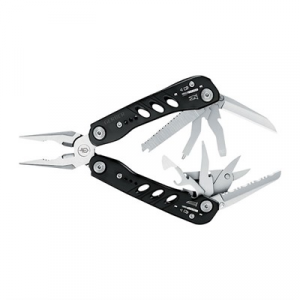 The Evo exudes simple style and features all outboard components, meaning there is no need to open handles to access tools. Each component is locking, making these tools among the safest out there. When you do need the pliers, spring loaded handles reduce...
---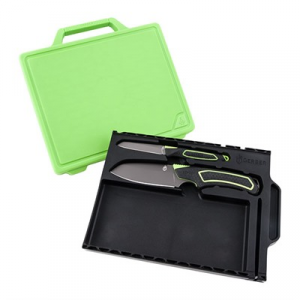 The Freescape Camp Kitchen Kit includes the Freescape Camp Kitchen and Paring Knives, and includes an innovative cutting board that contains a built in ceramic sharpener. A handle for easy carry and a drip channel to keep things clean make the durable...
---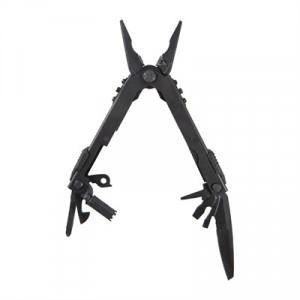 Front sight tool and a carbon scraper in addition to needle nose pliers with crimping jaw and replaceable carbide wire cutters, 1/2 serrated knife blade, wire cutters, Phillips Screw Driver, can/bottle opener. It comes with a black Molle Sheath. Mfg:...
---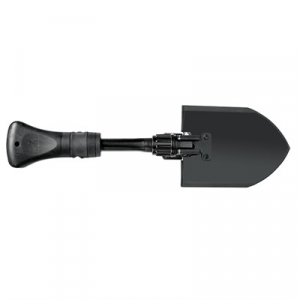 The Gorge Folding Shovel features a fast and smooth push-button collapsible handle and a glass-filled nylon shaft with rubberized overgrip. The spade folds back, revealing a textured head to be used as a hammer for pounding in tent stakes. The Gorge is...
---
Built for combat and survival applications, the Strong-arm features a full tang 420HC steel blade with ceramic coating. Rubberized diamond-texture handle for unshakeable grip. A striking pommel at the base of the handle breaks through hard surfaces, effective...
---
Highly visual, orange rubber handle is easy to spot + grip.. Replaceable razor blade is safely switched out w/ the push of a button.. Larger finger choil + width offer solid, comfortable grip. Don't be without it on the big hunt.. Blaze orange handle...
---
Fine Edge Utility Blade. Frame lock safety function. Zipper attachment for everyday carry. Blade Length: .68 Inches, Closed Length: 1.7 Inches. Clip for quick removal.
---
Sturdy stainless steel construction. Compact, lightweight size fits perfectly in pocket - a daily companion for any task. 10 tools: Needle nose spring-loaded pliers, Wire cutter, Fine edge blade, Retail package opener, Scissors, Medium flat driver, Crosshead...
---