Brand A-Z
Gear Aid (1 to 10 of 15)
---
---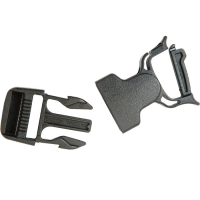 Because buckles can break along your journey, have this replacement set ready. With a standard side-release design, it can be added without sewing or removing existing webbing - just snap it in place, and your gear is good to go. . No-sew side-release...
---
Make drying and hanging gear quick and simple with the Gear Aid Camp Line kit. Using the kit's 550 paracord, camp carabiners and line tensioners, you can set up a strong line in just a few minutes.
---
The Gear Aid Carabiner Light kit is a rechargeable, portable LED light that you can hang inside a tent as a lantern, or attach to a stroller, backpack or dog collar for lighting on the go.
---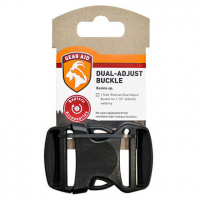 The Gear Aid Dual-Adjust 1.5 in. Buckle allows you to make an instant repair of your standard side release buckle, thanks to its quick and easy sew-free attachment. . Quick and easy replacement of broken buckles. No sewing required. Includes side-release,...
---
Fix your broken cord locks quickly and easily with Gear Aid Ellipse Toggles. . Replace broken cord locks on cord up to 3/16 in. (4 mm). Includes two toggles
---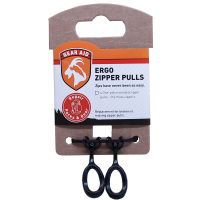 Next time you break a zipper pull, make sure you replace it with one you can actually count on, like one of these Gear Aid Ergo Zipper Pulls. . Includes two one-piece molded zipper pulls. Ergonomically designed to be more comfortable and reliable. 80...
---
Find things at night with the Gear Aid Ni Glo gear marker, a waterproof, glow-in-the-dark keychain to help you find gear at the campsite, signal the next big catch or mark epic trails and dive sites.
---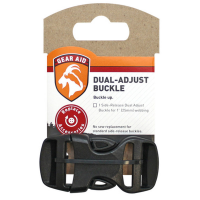 Don't let a broken buckle ruin your outdoor adventure! Make sure you have a Gear Aid Side Release Buckle Kit in your pack and fixing that broken buckle on the trail will be a cinch. . Attaches to any webbing up to 1 inch wide for easy, no-sew buckle replacements....
--- Gear Aid Sil Net Seam Sealer is a fast drying, water based urethane formula designed for sealing seams in silicone or silicone coated materials. Features: Freeze/thaw stable and washable/dry-cleanable It is ideal for tents, packs, rain wear, garments...
---
Make sagging clotheslines a thing of the past with the Gear Aid Taut Line Kit. Dry towels, hang gear or suspend lights using the kit's 50 ft. of reflective paracord and 4 easy-to-use line tensioners.
---