Brand A-Z
Fischer (1 to 8 of 8)
---
--- Idealfornoviceandintermediateskiers,theselightweightskisoffersuperiorstabilityandcontrol.. . Lightweight,mid-lengthtouringskis. Designedforbothonandofftrack. OffTrackCrownwaxlesspatterninsert. Forwardpositionsallowbettergripwhilerearpositionscreatebetterglide....
---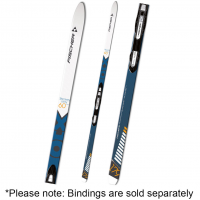 . The versatile Discovery 60 Crown Waxless NIS Skis provide a winning combination of kick and glide, in and out of the tracks. The durable wood core provides lightweight performance, while the Ultra Tuning Base offers superior control.. . Lightweight...
--- Specially designed for rolling terrain, the Explorer 68 Crown Skis feature a wide design for extra stability. The Off Track Crown pattern and Nordic Rocker Camber provide a precise and natural ride, allowing you to focus less on your gear and more on...
--- Perfectforvariableterrain,theFisherOffTrackPoleprovidesasuperiorholdindeepsnowandunchartedterritory.Thereimaginedcomfortstrapiseasytohandle,whiletheofftrackbasketfeaturesaforwardtipforbetterrollmotion.. . Corkgriphandle. Robust16:9mmaluminumshaft. ...
--- With steel edges providing stability through varied terrain, the Outback 68 are made for days spent far away from tracks and trails. Featuring a Nordic Rocker Camber, Offtrack Crown and universal stone grinding, the Outback 68 delivers the performance...
--- Equipped with Offtrack Crown technology with Fischer Easy Skin, the S-Bound 112 were engineered to grip steep terrain in the backcountry with ease.. . . Base/climbing zone: Sintec/Offtrack Crown + skin. Ski core: Air channel. Side cut: 112-78-95. ...
--- Conquer difficult terrain in the backcountry with the fully-featured S-Bound 98. Equipped with a Nordic rocker camber, steel edges along the entire length of the ski, and universal stone grinding for optimal gliding in all snow conditions, the S-Bound...
--- This versatile cross country ski is ideal for adventures on and off the trail. The Air Tec Steel Edge provides stability, while the Nordic Rocker Camber offers superior control.. . Composite/Wood . AirTec Steel Edge. Nordic Rocker Camber....
---