Brand A-Z
Fenix (1 to 10 of 13)
---
--- The Fenix CL09 is a compact and cold-resistant camping lantern with multipurpose red and blue lights, USB rechargeable capability and a magnetic bottom and hanging loop.
--- Powered by a single AA battery, the compact and lightweight Fenix E12 flashlight has a maximum output of 130 lumens and can throw a beam up to 88m (288 ft.) to meet your lighting needs.
--- Turns a small size into go-anywhere, functional lighting. A single AA battery kicks out 130 lumens with 40 hours runtime and 289ft reach. Tailcap switching controls all functions.FeaturesThree Brightness Levels Intelligent memory circuit Limited...
--- With 2 easy-to-find AA batteries, Fenix FD20 Focus flashlight shines 115m with 350 lumens, and operates by a switch control and twist design that lets you transition between spot and flood beams.
--- The compact Fenix FD30 Focus flashlight offers portable power with 6 different power settings and a whopping 900-lumen turbo beam for 656 ft. of wayfinding visibility in the darkest travel conditions.
--- Even the most chilling campfire stories won't get your goat with the Fenix HL60R rechargeable headlamp on your head. The ability to cast up to 950 lumens of light banishes fears of the dark for good.
---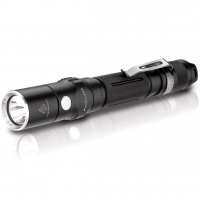 Great for daily use and tough enough for tactical settings, this compact flashlight continues to brighten whatever's ahead with new features and a higher output of 300 lumens, all while still using just two AA batteries. Adjust lighting according to the...
--- Fenix's upgraded flashlight delivers a versatile lighting solution, strong enough for law enforcement and search and rescue operations and ideal for hiking, camping, and more outdoor pursuits. Its next-level construction lets you see ahead 240m with 900...
--- Find portable power in the compact Fenix PD35 TAC (Tactical Edition) flashlight with 6 power settings and a whopping 1,000-lumen turbo beam for over 656 ft. of wayfinding visibility in the dark.
--- Weighing only 2 oz., the special edition of the Fenix RC05 rechargeable flashlight-now with a rear switch, just for REI-charges via USB or runs on batteries if power sources are scarce.
---