Brand A-Z
Epiphany Outdoor Gear (1 to 4 of 4)
---
---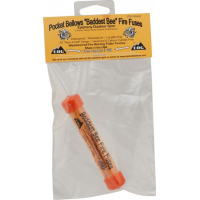 Epiphany Outdoor Gear Camp & Hike Baddest Bee Fire Fuses BB16H. When ignited with a match lighter or the smallest of sparks from a striking tool Baddest Bee Fire Fuses produce a strong breezeproof fire starting flame in the most difficult of fire starting...
---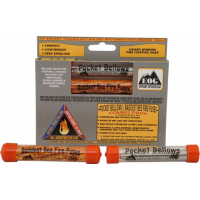 Epiphany Outdoor Gear Camp & Hike Pocket Bellows/Baddest Bee Combo Box-Silver V3BBC. The Baddest Bee Fire Fuses combined with the Pocket Bellows makes starting your next campfire a breeze.
---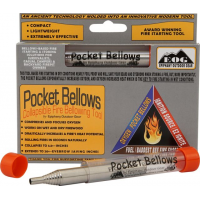 Epiphany Outdoor Gear Camp & Hike Pocket Bellows Fire Stoker V301B. Epiphany Outdoor Gear's lightweight collapsible fire bellowing tool the Pocket Bellows compresses and focuses oxygen directly into the heart of a fire. The byproduct of this extra oxygen...
---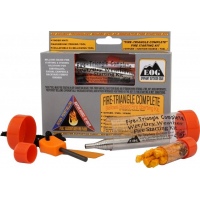 Epiphany Outdoor Gear Camp & Hike Pocket Bellows Weatherproof 3-Piece Fire Starting Kit V3LEO. Since fire starting requires 3 things: an ignition source fuel and oxygen; they developed the Pocket Bellows Weatherproof Fire Starting Kit around these requirements....
---
Pocket Bellows is an ancient fire-starting technology, molded into a modern telescopic hand tool. Start rolling fires with wet or dry firewood in minutes. Gives distance/keeps your face away from the fire when adding oxygen..
---
Fits: Charter Arms 5-shot .38 Special; Smith & Wesson 5-shot .38 Special J Frame, M60 .357 Magnum. Injection-molded. Depending on the gun model, all Safariland Speedloaders may require custom grips to ensure proper clearance. Features a small knob providing...
---
My name is Epiphany. After a decade of running and exercising outdoors, I struggled with where to keep my phone,keys and other necessities while I was out running. I tried everything but I could never find what I needed to fit everything I needed
....
---
Country of origin: USA. Brand name: Epiphany Outdoor Gear. Item Number: EOGV3LEO.
---
All the features of the 0-Degree LS-100 shoe contribute to making it the perfect shoe for the hardcore mountain biker and the cyclist that won't stop riding because of some bad weather.. To keep your feet warm and dry, the shoe has an insulated inner...
---