Brand A-Z
Dermatone (1 to 7 of 7)
---
---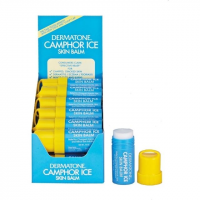 "Dermatone Bug & Sun Protection Camphor Ice Skin Balm 371635. New Loop cap works with a lanyard to keep it ready to use."
--- Dermatone medicated lip balm supplies soothing relief to chapped, dry lips while protecting them from further damage.
--- Keep your hands clean by swiping on the easy-to-use Dermatone No-Touch Sunscreen Stick. The SPF 50 formula protects against UVA and UVB exposure with a light, non-greasy feel.
--- From alpine views to lakeside hangouts, sun protection is a must-have for outdoor adventures. Shield yourself from harmful UVA and UVB rays with the Dermatone SPF 50 Sunscreen Lotion.
--- Get the sun blocking power of zinc oxide without looking like a clown! Transparent Dermatone Z-Cote(R) Lips 'n Face protection creme shields you from harmful solar rays.
---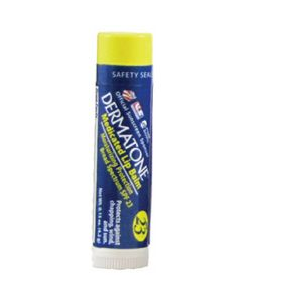 Protect and condition your lips with Dermatone's Medicated Lip Balm. With its SPF 23 protection, you can enjoy the sun without the burn. PRODUCT FEATURES: Prevents chapping, protects and conditions lips Relieves cold sores with menthol and phenol 0.15...
---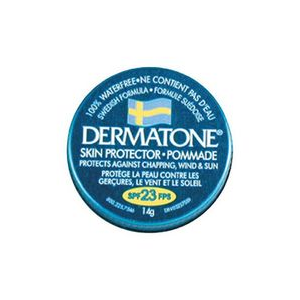 Give your skin some protection from the cold and sun with Dermatone's Mini Tin SPF23 0.5 oz Sun Block. PRODUCT FEATURES: Protects against cold, windburn and sun. Dermatone protects exposed skin two times longer against frostbite than other products or...
---
Helps save your lips with medicated lip balm that includes broad spectrum SPF 23, UVA and UVB protection. Helps prevent sunburn, chapping and cracking. Enriched with Vitamin E and aloe. Re-apply less with the dense formula that provides lasting protection....
---
Superior, broad spectrum SPF 23 protection from UVA and UVB rays. Protection from sunburn, chapping, wind, and frostbite. Unique container small enough to travel anywhere. Water-free formula, easy to apply. Oxybenzone free.
---
SPF 23 Sunscreen protection in a great stick application that also protects against chapping wind and cold. Perfect for sun-sensitive areas like your nose, ears, face, lips forehead and shoulders. Great for the first aid kit or any handy pockets where...
---
Broad-spectrum SPF 23 sunblock. Dontains menthol and phenol. Cold sore relief. Protects and conditions lips.
---
This is an 8 oz stainless steel black hip flask proudly designed and printed in the USA for Dads, Grads, Moms, Brothers, Sisters, Grandmas, Grandpas, Aunts and Uncles.. This rare and stylish flask is leak-proof and ready to party! Whiskey, Vodka, Gin,...
---