Brand A-Z
Cycleops (1 to 6 of 6)
---
--- Don't only bike when the conditions outdoors are optimal. Instead, continue to train and keep your legs moving with this innovative magnetic resistance unit. A great way to stay active when it's just too wet and cold to go out, this device assists with...
--- When riding outside isn't an option, the CycleOps Magneto trainer is. Instead of succumbing to the elements, simply bring your bike inside for a worry-free ride and spend your time training, not cleaning road grime off your frame. . Magneto is the world's...
--- Turn your bike into more than a fair-weather friend with the help of the CycleOps Mag trainer. The perfect solution to getting in a ride when it's too cold, wet, or dark to go outside, the Mag sets up quickly and easily for on-the-spot spins. . Redesigned...
--- The SuperMagneto Pro trainer combines versatility with an authentic road-like feel. Between seasons, use the SuperMagneto Pro to get in great shape - and stay that way. Four resistance curves: easy, road, interval, and mountain. Easy adjustments for ride...
---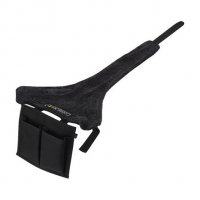 Sweating all over your bike while riding on your trainer does not count as washing it. Protect your frame with the CycleOps Sweat Guard (or in.bike thong, in. if you prefer), and be sure to give your bike some much-needed TLC later. Protects your frame...
--- ---