Brand A-Z
Continental (1 to 10 of 17)
---
--- Famously durable, the Continental Gatorskin tires are great choice for commuting, touring, and training.. . . . . PolyX Breaker uses a tightly woven polyester layer in the tires construction to increase puncture resistance. Tried-and-true DuraSkin sidewall...
--- Continental Gatorskin Road Tire, 700 X 25
--- One of the most versatile tires around, this sturdy solution for touring and racing delivers a dependable combination of comfort, puncture protection, grip, and rolling resistance that lasts over many miles. Two rubber compounds together give you this...
--- For reliability, longevity and all out performance for your race machine, the Continental GP 4000s is the only choice. . State of the art Black Chili rubber compound increases grip without compromising durability. Not only is it fast and super grippy,...
--- Delivering durable, puncture-resistant performance, Lite Tubes are a reliable and dependable choice. Removable presta cores. Seamless and mold cured butyl rubber. State-of-the-art manufacturing process.
--- Famously durable, the Continental Mountain King Bike Tire is a great choice for commuting, touring, and training. Tread lug arrangement is lightweight yet tough. Excellent braking traction. Optimum cornering. Intermediate option.
--- Ideal for full-suspension trail bikes, this Mountain King II Wire Bead tire is built with snappy central knobs and grippy outer knobs for maximum grip out on the trail. A durable casing and long-lasting tread also ensures the long life of this tire. ....
--- A thoroughbred race tire, the Continental Mountain King is designed to deliver maximum speeds on dry hard ground.. . . . . Designed to quickly move over hard and dry ground. Raised outer tread for gripping in turns and carrying speed across flats. ...
---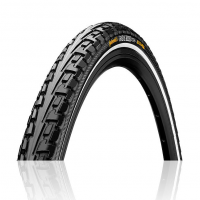 Designed for touring, the Continental Ride Tour features a tread for all road surfaces, superior puncture protection, and high mileage performance. . . . Continuous center tread provides good rolling characteristics and ample traction when cornering....
--- Highly visible thanks to reflective sidewalls and extremely puncture resistant, the Continental Touring Plus tires are perfect for missions around town.. . . . . Great for everyday use and protection from broken glass, thorns, and stones. Plus Breaker...
---