Brand A-Z
Coleman Outdoor (1 to 1 of 1)
---
---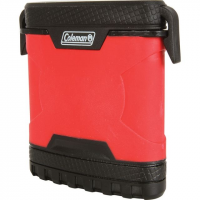 Coleman Outdoor Camp & Hike Rugged Waterprf Match Holder 2000025204. Curved edges to fit comfortably in your pocket. Built-in match striker. 25 waterproof matches included.
---
PVC-free .15-mm EVA. Welded seams. Lightweight and packable. Attached, full-coverage hood. Side snap closures. Fits most youths. Clear.
---
25 liters (1,526 cu. in.) of total backpack space. Perfect for long rides or day hikes. Comfortable, light suspension keeps airflow behind your back. Adjustable bungee cords secure hiking poles and other bulky gear. Several zippered pockets for quick...
---
Durable duffle bag featuring double-bolstered box-stitched stress points and Dura Coated exterior for content protection. Construction-grade two-way zipper closure. Detachable/adjustable cross-body strap and webbing-bolstered top handles. Medium large...
---
HEAVY-DUTY OUTDOOR EXTENSION CORDS: this large outdoor extension cord has a durable jacket which protects it from the elements, dust and dirt. EXTENSION CORD FOR OUTDOOR USE: having an army green color, this small outdoor extension cord blends into the...
---
LIGHT SWITCH EXTENSION CORD FOR OUTDOORS: this heavy duty outdoor extension cord has a thick vinyl jacket that protects it from moisture, chemicals, abrasion, dust, dirt and excessive sun exposure for longer durability. REINFORCED BLADES FOR SAFE USAGE:...
---