Brand A-Z
Camp Chef (1 to 10 of 57)
---
---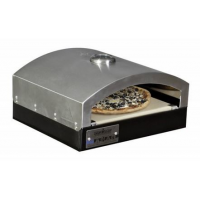 Camp Chef Stove Accessories 14inX16in Italia Artisan Pizza Oven Accessory Black/Silver PZ30. The ceramic stone promotes even heat distribution and the domed ceiling design mimics the same heating pattern as a wood fired brick oven. Preheats in just 15...
---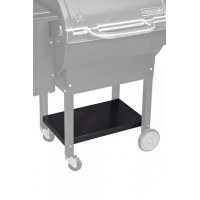 Camp Chef Camp & Hike Bottom Shelf Accessory Black PGBS. Easily attaches to your Camp Chef pellet grill with the existing leg holes.
---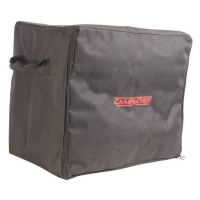 Camp Chef Stove Accessories Camp Oven Carry Bag C CBOVEN. Outdoor camp oven carry bag is just what you need when you going to camp or the woods. Great for emergency preparedness.Features weather-resistant liner Full zip for easy insertion of oven padded...
---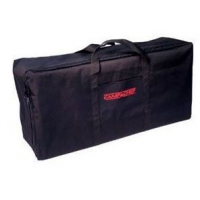 Camp Chef Stove Accessories Carry Bag for 2 Burner Stove C CB60UNV. This durable bag is a necessity for transport and storage. Also doubles as a great gear bag. If you want wheels check out the Roller Carry Bag (RCB60).Features Weather-resistant liner...
---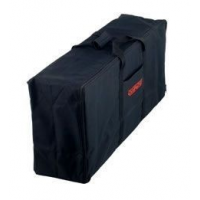 Camp Chef Camp & Hike Carry Bag for 3 Burner Stoves C CB90. Excellent construction at a fantastic value. Also a great gear bag. Fits models GB-90 TB-90 POC-90 SPG-90 Expedition 3x Tahoe and Big Gas Grill 3.Features weather-resistant liner wrap handle...
---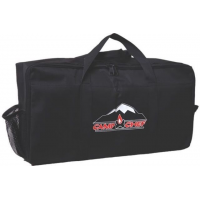 Camp Chef Stove Accessories Carry Bag For Mountain Series C CBMS. Pack store and protect your stove with a carry bag to lengthen the life of your stove and provide easy transport. Features. Fits All Mountain Series Stoves - Teton (MS2) Everest (MS2HP)...
---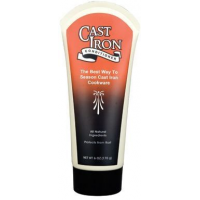 Camp Chef Camp & Hike Cast Iron Conditioner C CSC8. Made of all natural oils this conditioner creates a natural easy release surface and should not be viewed as a chemical non-stick coating. Seasoning your cast iron will allow it to last for generations....
---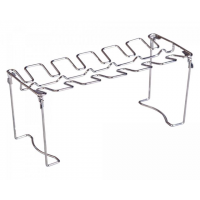 Camp Chef Camp & Hike Chicken Leg and Wing Rack CHRK. It can hold up to 12 chicken legs or wingsperfect for an appetizer or snack. The durable nickel-plated steel will last you a long time and cleaning it is easy. Make sure youre ready for the big game...
---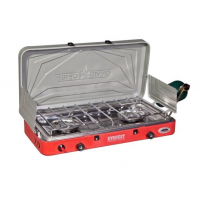 Camp Chef Base Camping Propane Stoves Everest 2 Burner Stove MS2HP. Two high-pressure 20000 BTU burners pump out all the heat you'll need to handle your cooking needs and feed your family. A matchless ignition systems fires up the Everest quickly and...
---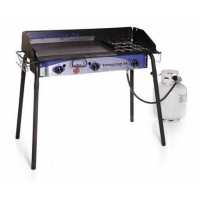 Expedition 3X Triple Buner Stove W/Griddle Detachable Legs Windscreen Sg60 White/Blue/Black. ..The Expedition 3x. With three 30000 BTU/hr burners this stove is great for any occasion. Each burner produces three times the heat of a burner on your kitchen...
---