Brand A-Z
Bug Bite Thing (1 to 1 of 1)
---
---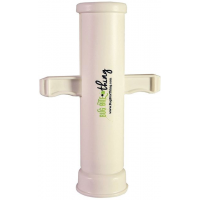 Bug Bite Thing Bug Repellent Removal Tool BBT01. First aid suction tool that provides immediate relief. Bug Bite Thing is kid friendly it uses suction to extract the poison bugs/bees inject into your skin.
---
Removes insect venom, saliva, and other irritants left under the skin using suction. By removing the irritant, the body stops producing the reaction that is causing you to itch & swell. Works on: mosquitoes, bees, wasps, biting flies, no-see-ums, chiggers,...
---
STOP ITCHY BITES FROM RUINING YOUR FUN Handy pocket size twist up stick is easy to carry so you can always be prepared when insect bites happen (and they always do). If you or someone you know is sensitive or allergic to mosquito bites this convenient...
---
All natural. DFEET free. Handmade product. Made in USA. Can use on infants.
---
Small, reusable vacuum pump helps remove poisons below your skin in 1 quick motion; use for snake bites, bee/wasp stings, mosquito bites, and more. 4 sizes of plastic cups for use and effective suction on a variety of sting or bite sizes; pump is easy...
---
Fits queen size mattress perfectly with dimensions 60 inches by 80 inches; 15 inches deep pocket. Zippered cover with a zip guard secures the mattress from 360 degrees and keep bedbugs from entering or escaping. Stretchable knitted polyester fabric fits...
---