Brand A-Z
Boker Usa (1 to 10 of 449)
---
---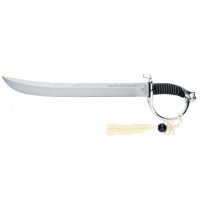 "Boker USA Camp & Hike Boker Fox 15.7in Sabre T5MoV Stainless Steel 09 FX2006. 7 T5MoV Stainless Steel - True to the original the especially high-quality Champagne saber by Fox is manufactured in the known cutlery workshop in Maniago Italy. The blade...
---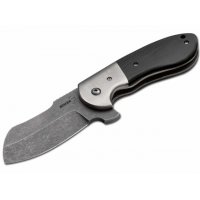 Boker USA Camp & Hike Boker Impetus Black G10 Stonewash Sheepsfoot Blade Plain NO B 01BO720. Based on Michael's wildly popular custom flipper knife this thoughtful conscious design incorporates maximum wear robust and ergonomic use and a sophisticated...
---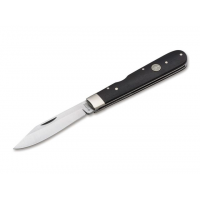 Boker USA Camp & Hike 1906 Knife Black Small 113024. Yet others are much too beautiful too precious to remain lost forever. The classic Boker 1906 is such a case. The design is more than a hundred years old but its clear lines are still much loved today....
---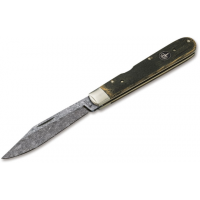 Boker USA Camp & Hike 1906 Schloss Burg Knife Brown Small 113324. Count Adolf II. von Berg had the castle constructed on the foundations of a 10th-century fortress. It was finished in 1133. Today it is one of the biggest castles in western Germany inseparably...
---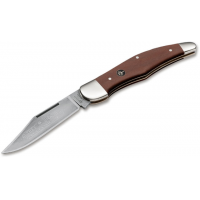 Boker USA Camp & Hike 20-20 Plum C75 Knife Brown Small 111013. Older generations in particular rely on the excellent edge retention of the non-stainless blade of carbon steel C75. Moreover the blades are easy to sharpen. The domestic plum wood used for...
---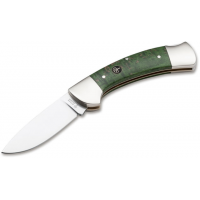 Boker USA Camp & Hike 3000 Curly Birch Knife Green Small 118000. For the 125th anniversary of Boker Manufactory Solingen we presented a very special version of the successful Boker 3000. The handle scales were made from genuine jade a gemstone that has...
---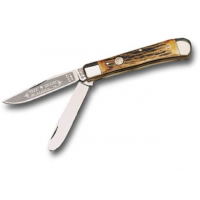 Boker USA Camp & Hike 4 1/8in Stag Trapper Knife Brown Small 114525. Clip and spey blades of 440C stainless steel. Closed length: 4 1/4.
---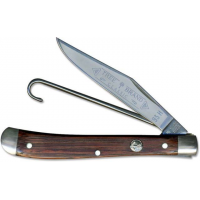 Boker USA Camp & Hike 4in Blade Bird Hunter Knife 110093H. A 3 1/4 stainless steel blade complements an elongated gut hook for versatile use in the field. Rosewood handles and nickel silver bolsteres ensure long and faithful use. Closed length: 4.
---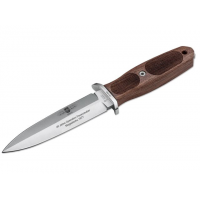 Boker USA Camp & Hike A-F 5.5 Feuerzauber Knife Brown Small 122545. The liberation mission (Operation Feuerzauber) was executed by the still quite new GSG-9 unit founded in 1972. This successful mission under the command of founder Ulrich K. Wegener firmly...
---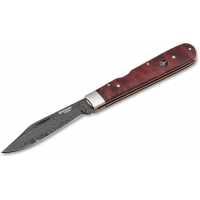 Boker USA Camp & Hike Annual Damascus 2020 Knife Red Small 1132020DAM. The new edition of the knife design from the turn of the century before last meets the current zeitgeist and is extremely popular. It is a very charismatic pocket knife whose special...
---