Brand A-Z
Bleuet (1 to 1 of 1)
---
---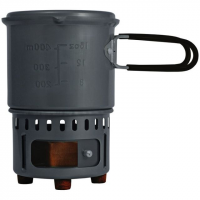 Bleuet Backpacking Stoves Aluminum Cookset/stove 7943. Includes pot lid and windshield stove unit. Stove fits inside pot for space-saving convenience. Foldable no heat handle. Uses Bleuet 14g fuel cubes. Sliding door to control the flow of oxygen to regulate...
---
Extra large 25gm cube. Long burning solid fuel cubes. Approximately 22 minutes burn time per cube. Non-explosive. Make a great camp fire starter.
---
Compact (3"x 4"x3/4"). Light weight (3.25 oz.) made of galvanized hard steel. Includes 6 fuel cubes. Perfect for ultra light weight backpacking. Great for emergency preparation.
---
Individually packaged in water resistant, blister packs.. Approximately 15 minutes burn time per cube.. Can be extinguished and re-lit, resuable.. One cube will bring 1 pint of water to a rolling boil in less than 8 minutes - strong heating output.. Ignites...
---
Lightweight Compact Solid Fuel Stove w/ additional 12 Fuel Cubes. made of galvanized hardened steel. weighs 3.25 oz. Fuel Cubes burn for 19 minutes at 1300 degrees. Solid Fuel Cubes can be extinguished and relit , reusable , non toxic, biodegradable...
---
Le Bleuet. Lapel Pin. Remembrance.
---