Brand A-Z
Bambu (1 to 5 of 5)
---
--- Lightweight for camping, hiking or stashing in your lunchbox, the bambu Bamboo utensil set is a great alternative to plastic. The spoon, knife and fork have a smooth finish and wash up easily.
---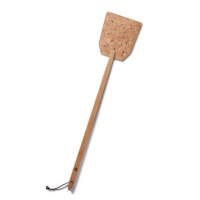 Bambu Bug Repellent Cork/Bamboo Fly Swatter Natural 20in 0 56520. Fight back with a fly swatter like no other. We've built ours from bamboo and cork two eco-friendly materials. We have utilized our fab cork fabric for the'no fly'zone. We have perforated...
--- This updated bambu Large spork features a bigger spoon base for hearty stews and thick oatmeal, while the handy tines are perfect for the meatier side of life.
--- Cut down on your single-use plastic and party responsibly with this set of compostable bambu Veneerware Bamboo utensils (8 each of forks, knives and spoons). Your guests and the planet will thank you.
--- It's hip to be square. With a greater surface area than round plates, these 9 in. bambu Veneerware Square Bamboo plates are great to have on hand for birthdays, picnics and impromptu celebrations.
---
Medium: Vinyl. Height: 1.5". Edition: Limited. Designer: tokidoki.
---
New from Tokidoki, 20 of the most popular Unicorno characters are now in Frenzie form.. The Unicornos live between the magic kingdom and our world. Each comes with a lobster clip, lanyard and Phonezie attachment. The Phonezies are fun mini-figure accessories...
---
Features indentations on 2 sides for easy lifting and holding. Made of bamboo, food safe water-based adhesives and finished with top grade natural oil. Original, contemporary design is both beautiful and functional. Absorbs very little moisture which...
---
1 1/4 size (78mm x 45mm). 32 leaves in each book. Made in Spain.
---
1 Box contains 5 Square Feet. (Color Sample option is a single piece for color matching purposes). Backsplash Tile suitable for kitchen and bathroom, accent walls and trims. You can create a variety of patterns. This tile is perfect for interior design,...
---