Brand A-Z
Backpackers Pantry (1 to 10 of 35)
---
---
What's better than ice cream after a long hike? Ice cream that won't melt. The Backpacker's Pantry Astronaut Neopolitan ice cream sandwich has the 3 flavors you love in a handy, freeze-dried format.
---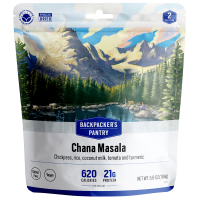 Delicious cuisine for the trails, this pouch includes two servings of a curry inspired by India's Punjab region. Just add boiling water to this combination of chickpeas, chilies, and rice to have a meal that offers 14g of protein per serving. Pouch makes...
---
Tasty enough to win Backpacker's Magazine Gear Guide Editors' Choice Award for 2016, Backpacker's Pantry improved their recipe for 2016 to give you authentic Indian cuisine in the backcountry.
---
Transport yourself to northern Thailand no matter where you roam with Backpacker's Pantry Chiang Mai Coconut Curry with Beef. It has rice noodles, beef and vegetables in a savory yellow coconut curry.
---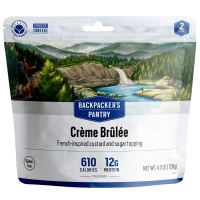 Your favorite dessert just got a whole lot easier to prepare. This twist on the classic French dessert is ready to eat in less than 15 minutes, and doesn't require a blowtorch. Makes two servings. 270 calories per serving. Weighs 4.6 oz. (130 g). Allergens:...
---
Transport yourself to the Caribbean with just 1 bite of the Backpacker's Pantry Cuban Coconut Black Beans and Rice freeze-dried meal.
---
When summit conditions have you wishing you had planned a beach getaway instead of a backpacking trip, this unique dish of black beans, rice, coconut, and bananas will transport you to the Caribbean after just one bite. . Makes two 13-oz. servings. 490...
---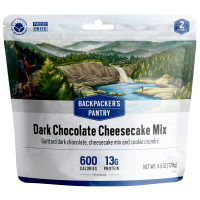 Mmmmmmmm. Outdoor gourmet food from Backpacker's Pantry is delicious and nutritious. Check out the full line of recipes for all your backpacking and travel meals. . Contains dark chocolate cheesecake with chocolate cookie crumb topping. Vegetarian. Easy-to-prepare...
---
A truly delicious and indulgent dark chocolate cheesecake. A perfect complement to your peak experiences.
---
Backpacker's Pantry Fettuccini Alfredo with Chicken features a creamy Alfredo sauce, roasted red peppers, chicken and noodles.
---