Brand A-Z
Backpackers Pantry (1 to 10 of 45)
---
---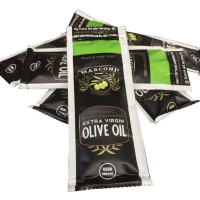 Give your meal extra flavor with these packets of organic extra virgin olive oil. 15ml packets can be easily brought along with the rest of your food for the trails. . Contains certified organic extra virgin olive oil. . Each contains 15ml. . Just tear...
---
What's better than ice cream after a long hike? Ice cream that won't melt. The Backpacker's Pantry Astronaut Neopolitan ice cream sandwich has the 3 flavors you love in a handy, freeze-dried format.
---
A long day of hiking calls for some ice cream, but there's no scoop shop on the trail. The Backpacker's Pantry Astronaut Vanilla ice cream sandwich gives you all the creamy goodness without the melt.
--- This mouth-watering stroganoff recipe is the ultimate comfort food for wherever your adventures take you. It's made with all-natural freeze-dried beef, wild forest mushrooms, noodles, and a tangy sour cream sauce to top everything off. Prep is a breeze,...
---
Tasty enough to win Backpacker's Magazine Gear Guide Editors' Choice Award for 2016, Backpacker's Pantry improved their recipe for 2016 to give you authentic Indian cuisine in the backcountry.
---
Transport yourself to northern Thailand no matter where you roam with Backpacker's Pantry Chiang Mai Coconut Curry with Beef. It has rice noodles, beef and vegetables in a savory yellow coconut curry.
---
Backpacker's Pantry Chicken Piccata with Tagliatelle Pasta offers a light lemon-garlic sauce mixed with egg pasta, Parmesan, capers and all-natural chicken in a zesty twist on an Italian classic.
---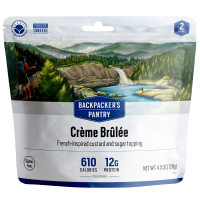 Your favorite dessert just got a whole lot easier to prepare. This twist on the classic French dessert is ready to eat in less than 15 minutes, and doesn't require a blowtorch. Makes two servings. 270 calories per serving. Weighs 4.6 oz. (130 g). Allergens:...
---
There's no blow torch required to enjoy this Backpacker's Pantry sweet and satisfying twist on creme brulee.
---
Transport yourself to the Caribbean with just 1 bite of the Backpacker's Pantry Cuban Coconut Black Beans and Rice freeze-dried meal.
---