Brand A-Z
Atlas (1 to 9 of 9)
---
--- These snowshoes provide convenience, comfort and safety with its shock-absorbing fixed bindings, Sturdy V-Frames and flexible yet durable decking. Sturdy V-Frames and tapered tails. Shock-absorbing fixed bindings for natural foot articulation. Lightweight...
--- Strategically engineered for variable and rolling terrain, Atlas Access Snowshoes will conquer the most technical surfaces. The combination of the Light-Ride(TM) Suspension, the Wrapp(TM) Trail binding, and heel bar provides the support and protection...
--- The new Atlas Montane men???s snowshoe was designed to handle variable mountainous terrain. The essential strength of the V-Frame??? design and time-tested Spring-Loaded??? Suspension system provides a sturdy and versatile platform for the Montane???s...
--- Atlas Rendezvous 25 Snowshoes were engineered for comfort and efficiency. Its lightweight yet durable construction makes for a smooth, clean ride down the slopes. Strapp Binding technology provides molded arch support, one-pull Uniloop design, no hassle...
---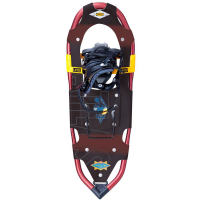 Designed specifically for variable and rolling terrain, you'll be prepared to conquer anything with the Atlas Treeline Snowshoes. Light-Ride(TM) Suspension provides a natural stride, while the Wrapp(TM) Lux bindings are specifically molded for superior...
--- Engineered with technology that offers advanced traction and an enhanced fit, the Treeline snowshoes provide optimal maneuverability and lightweight comfort. Aluminum frame. Nytex decking. Steel crampons. Heel lift bar eases fatigue and ties directly...
--- These snowshoes are ready for your adventures with their lightweight yet durable design. Nylon composite decking provides strength and flexibility, sturdy v-frames track straight in deep snow, and heel lifts offer your calves some support while navigating...
---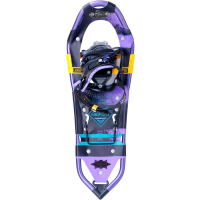 Gear up for a day of hiking with the Elektra Treeline snowshoes, featuring V-frames for straight tracking, Wrapp Lux bindings with EVA foam for comfort, and Light-Ride(TM) Suspension for functionality and smooth striding. Glide through snow and ice with...
--- Hike for hours in comfort with Wrapp Lux bindings featuring EVA foam and black Flowtape silicone straps that tighten with one simple pull. Blending comfort and function, the Light-Ride(TM) Suspension allows the foot to articulate naturally for a cushioned...
---