Brand A-Z
Aquapac (1 to 3 of 3)
---
--- Aquapac's Small VHF Pro - 229 is perfect for rescue professionals and serious paddlers. Tough, waterproof and you can use your radio while it's in the bag.
---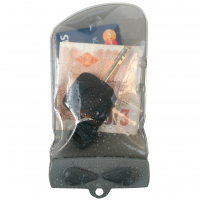 During your kayaking or SUP adventure, your keys and cards can come along - just make sure you toss them in this small dry bag first. Fitting just these basics, this airtight, 100% waterproof solution keeps everything together, protects them from water,...
--- Stay connected to the world even when you're out on the water or at the beach with the Aquapac Waterproof Phone Case. The waterproof polyurethane case can safely float if dropped into the water and features foam padding for additional protection. The...
---
Waterproof case for your large phone and a bumper.
---
A completely waterproof case to fit the iPhone 6 PLUS, iPhone 7, Galaxy Note 4 and same-sized phablets. Take great photos and video through the optically clear case as well as talk, hear, and operate the touchscreen. Submersible to 30 ft. Lanyard inclu....
---
A completely waterproof case for radio microphones and other small wired devices. As used by film crews and sound engineers all over the world.. "TC" Clip makes it waterproof to the IPX6 standard (protected against powerful water jets).. PVC-free. Made...
---
Ideal for protecting car immobilizers, keys and keeping asthma inhalers safe in all weather conditions. Guaranteed submersible to 150ft/50m and keeps dust and sand out. Floats safely if dropped in water. Supplied with a neckcord. New Polyurethane material...
---
A tough and simple backpack so you can just pack and go... anywhere!. Roll-down seal which you can secure at the top when you are carrying a lot, or at the side when you need to compress your load.. 2 mesh side pockets for you to stash drinks or those...
---