Brand A-Z
Aerobie (1 to 4 of 4)
---
--- Made For Durability and Hours Of Outdoor Fun! Great For The Beach Or By The Pool Side! AEROBIE Skylighter Lighted Disc For an exciting game of catch after dark, the Aerobie Skylighter has no equals. Its bright LEDs illuminate the clear center and the...
---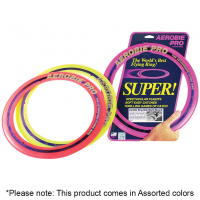 Did you know that the Aerobie Pro Ring was used for the Guinness World Recorda (TM)s farthest throw? Using proprietary aerodynamics, this ring effortlessly travels 100 yards with a single pass and has a rubber edge for soft catches. . Made with rubber...
---
Fun to throw and easy to catch (even for beginners!), the Aerobie Squidgie Disc is sure to provide countless hours of fun this summer. . Flexible material allows for soft, easy catches. Patented spoiler rim provides long, accurate, and stable flights....
---
Forget the bitter, acidic coffee you're used to drinking from a standard coffee press. The AeroPress from Aerobie takes only 30 seconds, but makes the smoothest, best-tasting coffee that coffeereview.com, Sunset Magazine, Vogue Magazine, Cooks Junction,...
---