Brand A-Z
Aerobie (1 to 5 of 5)
---
--- Made For Durability and Hours Of Outdoor Fun! Great For The Beach Or By The Pool Side! AEROBIE Skylighter Lighted Disc For an exciting game of catch after dark, the Aerobie Skylighter has no equals. Its bright LEDs illuminate the clear center and the...
---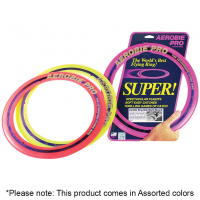 Did you know that the Aerobie Pro Ring was used for the Guinness World Record's farthest throw? Using proprietary aerodynamics, this ring effortlessly travels 100 yards with a single pass and has a rubber edge for soft catches. . Made with rubber edges....
---
Fun to throw and easy to catch (even for beginners!), the Aerobie Squidgie Disc is sure to provide countless hours of fun this summer. . Flexible material allows for soft, easy catches. Patented spoiler rim provides long, accurate, and stable flights....
---
Forget the bitter, acidic coffee you're used to drinking from a standard coffee press. The AeroPress from Aerobie takes only 30 seconds, but makes the smoothest, best-tasting coffee that coffeereview.com, Sunset Magazine, Vogue Magazine, Cooks Junction,...
---
Pack of 350 replacement microfilters for your AeroPress coffee maker.
---
Double pack of Aerobie AeroPress Micro-filters, Total of 700 Filters. Filters are designed for the Aerobie AeroPress coffee maker. Not compatible with traditional coffee makers. The Micro-filter material removes grit, unlike other press-type coffee makers....
---
Popular with coffee enthusiasts worldwide, the patented AeroPress is a new kind of coffee press that uses a rapid, total immersion brewing process to make smooth, delicious, full flavored coffee without bitterness and with low acidity.. Good-bye French...
---
EXTENDS THE LIFESPAN OF YOUR BREWING MACHINE: Keep your coffee and espresso machines calcium and limescale free with our descaling liquid and improve the life span of your brewer.. NO UNPLEASANT ODOR OR TASTE: Most descaling liquids like vinegar is difficult...
---
BETTER TASTING COFFEE so when you insert your unbleached coffee filter into your AeroPress it makes a great tasting coffee!. LARGER PACK SIZES! We make it easy for you to always have a coffee filter when you need it. These come in 100, 200, 300, 400,...
---
You will receive one each of the 10" L X 13" W. Includes one high performance boomerang designed to be thrown and caught. Pro flying ring set Guinness world record for the farthest throw (1,333 feet).
---