Brand A-Z
Aerobie (1 to 1 of 1)
---
---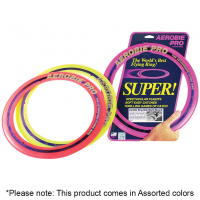 Did you know that the Aerobie Pro Ring was used for the Guinness World Record's farthest throw? Using proprietary aerodynamics, this ring effortlessly travels 100 yards with a single pass and has a rubber edge for soft catches. . Made with rubber edges....
---
HIGH PERFORMANCE AEROBIE PRO RING - Includes 3 Aerobie Pro Rings, Colors May Vary. FLIES FAR AND EASY TO CATCH - Aerobie Pro Rings are different than most frisbees - they are thin and light, allowing them to fly far. COMFORTABLE TO CATCH - With an open...
---
Just Add Coffee & Water: With this AeroPress coffee maker and Brillante coffee grinder set you'll be ready to begin making the best coffee you've ever tasted. This Coffee Making Set Includes: Aerobie Aeropress, funnel, 350 micro-filters, filter holder,...
---
GUINNESS WORLD RECORD: This flying ring was used to set a Guinness World Record for the farthest throw, an amazing 1,333 feet (406 meters)!. ULTIMATE DISTANCE: The low profile design of the Aerobie Pro Ring delivers long-distance, more accurate throws....
---
Random pre-selected assorted colors - colors may vary. Soft rubber edges for comfortable catches. Thrilling games of catch. Patented high performance design produced to the highest quality standards. Made in the U.S.A.
---
IMPROVED ACCURACY: The Aerobie Superdisc features a thin, low profile design and spoiler rim for longer, more accurate flights. SECURE GRIP: The disc includes a cushioned edge for a better grip and softer catches. ENCOURAGES ACTIVE PLAY: Toss the Superdisc...
---