Brand A-Z
Aerobie (1 to 2 of 2)
---
---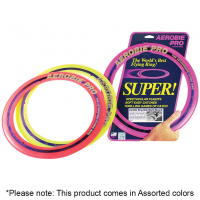 Did you know that the Aerobie Pro Ring was used for the Guinness World Record's farthest throw? Using proprietary aerodynamics, this ring effortlessly travels 100 yards with a single pass and has a rubber edge for soft catches. . Made with rubber edges....
---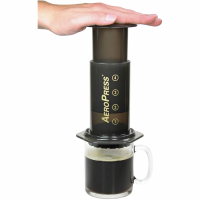 Forget the bitter, acidic coffee you're used to drinking from a standard coffee press. The AeroPress from Aerobie takes only 30 seconds, but makes the smoothest, best-tasting coffee that coffeereview.com, Sunset Magazine, Vogue Magazine, Cooks Junction,...
---
HIGH PERFORMANCE AEROBIE PRO RING - Includes 3 Aerobie Pro Rings, Colors May Vary. FLIES FAR AND EASY TO CATCH - Aerobie Pro Rings are different than most frisbees - they are thin and light, allowing them to fly far. COMFORTABLE TO CATCH - With an open...
---
Rapid, total immersion brewing process makes delicious full flavored coffee without bitterness. Makes 1 to 3 cups per pressing in about one minute, Brews regular American style coffee. Brews espresso style coffee for use in lattes and other espresso based...
---
ULTIMATE DISTANCE: The compact, thin design of the Aerobie Sprint Ring flies twice as far as most conventional flying discs. SECURE GRIP: The soft edges are easy to throw and soft to catch. ENCOURAGES ACTIVE PLAY: Great for catch games in the backyard,...
---
IMPROVED ACCURACY: The Aerobie Superdisc features a thin, low profile design and spoiler rim for longer, more accurate flights. SECURE GRIP: The disc includes a cushioned edge for a better grip and softer catches. ENCOURAGES ACTIVE PLAY: Toss the Superdisc...
---
LIGHT UP DISC: Light up your disc game with the Aerobie Skylighter Disc, a flying disc with super-bright LED lights inside!. DURABLE: Sonically welded light module for added durability. SECURE GRIP: Cushioned edge for better grip and softer catches and...
---