Brand A-Z
Adventure Medical Kits (31 to 40 of 147)
---
--- With the Escape Bivvy, Adventure Medical Kits solved the number one bivvy complaint,: condensation build up that leaves your clothing soaked. The proprietary fabric is waterproof and breathable, allowing moisture to escape, while keeping you protected...
---
Tender Corp Family First Aid Kit Includes: 78 Medical supplies 1 Medical bag Guidebook "Caring for Children in the Outdoors" Kid-Friendly First Aid Kit for the Whole Family Getting injured while out having fun is just part of being a kid, and with this...
---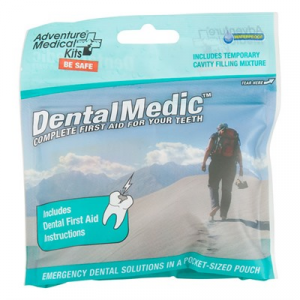 Nothing brings a person to his or her knees like a dental emergency - be it an infection, a lost filling, or fractured tooth. The Dental Medic contains the essentials for treating dental pain and injury when a dentist isn't available, from basic supplies...
---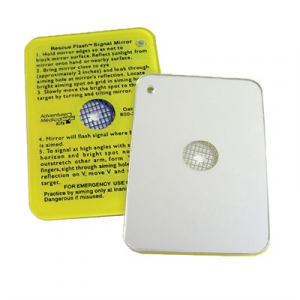 Visible over 10 miles! Target planes, helicopters, and distant search and rescue teams with the Rescue Flash Signal Mirror. The retro-reflective aiming aid enables you to signal targets from miles away, and the lightweight Lexan construction will not...
---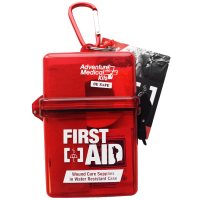 Be prepared for the unexpected during your backcountry treks with this First Aid Water-Resistant Medical Kit. It contains basic first aid necessities and is easy to store. . . . Water-resistant plastic case. . One carabiner. . Three alcohol wipes....
--- Get instant relief from small blisters and burns encountered on the trail with this handy kit from Adventure Medical.
---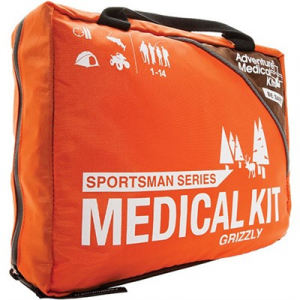 Hunting and fishing demand specially-tailored gear, which is why Adventure Medical Kits has created the Sportsman series of medical kits. Designed for commercial or recreational hunters and fishermen on trips up to fourteen days long, the Grizzly contains...
---
Apply a cold compress to your injuries on the go by adding the Adventure Medical Kits ice pack refill to your travel and hiking first-aid kits.
---
Tender Corp Professional Ultralight / Watertight Pro Includes: 62 Medical supplies 1 Medical bag 1 Guide to Wilderness & Travel Medicine The First Aid Kit Used by Yosemite Mountain Guides This first aid kit was originally developed for and used exclusively...
--- Keep your travel or hiking first aid kit well stocked by adding the Adventure Medical Kit medications refill containing the items you reach for most often.
---