Brand A-Z
303 Products (1 to 1 of 1)
---
---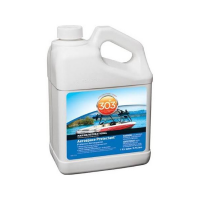 Superior UV protection keeps items looking newer & lasting longer when using 303 Protectant. Ultimate fade protection keeps surfaces bright by restoring color & luster. Enduring repellent finish that stays cleaner longer and cleans up easier. No oily...
---
160mAh High Capacity - CELEWELL produces real high quality 160mAh 1.5V AG13 alkaline batteries which are tested by thousands of people and get active evaluations, lasting long.. 3 Years Warranty- We promise 3 years quality warranty. Manufacturing date...
---
303 Products 303 Aerospace Protectant 1 Gallon.. 100% prevention of UV caused slow-fade.. Powerful UV sun-screening surface treatment.. Protects vinyl.. TOT030370.
---
The formulation is designed for both gasoline and diesel engines. Its lower-silicate, reduced pH, phosphate free European technology protects all cooling system metals, including aluminum, from corrosion. ZEREX G-05 is a nitrite containing coolant designed...
---
Please use the year/make/model drop down bar and interchangeable part numbers to confirm compatibility.. Our replacement ignition coils are easy to install with the highest quality copper.. Each coil is design for specific application, low-emissions,...
---
Adapt Blueair 501/503/505/510/550E/555EB/601/603/650E, Smokestop Type. This filter is designed to eliminate fine and ultrafine particles, allergens, bacteria, viruses and mold spores.
With additional sheets of activated carbon to remove gaseous pollutants...
---